Ahead of the ensuing Lok Sabha polls, the Congress candidate of Outer Manipur Lok Sabha constituency K James  has faced an allegation of being a defaulter of a bank loan.
A report published by Northeast Live stated that James is a defaulter of a  loan of Rs 100 crore borrowed by him in the capacity of director and personal guarantor for a firm called M/s Northeast Region Fin Services Limited.
It has been reported that the cash credit loan was sanctioned by the Punjab National Bank (PNB).
The PNB authority has already dashed off a letter to the Election Commission to bar James from contesting the Lok Sabha polls accusing him of being a wilful defaulter.
In its letter to the Election Commission, the PNB circle head has reportedly accused James of resigning from the company, M/S Northeast Region Fin Services Limited, earlier this month without informing the bank which it has termed as a clear violation of the terms of the sanctioned loan.
The bank has alleged that James had resigned as the director of the firm to suppress the fact of availing loan.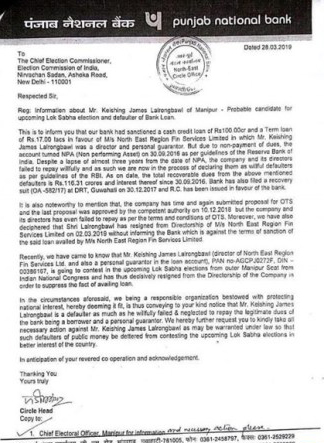 The office of the Manipur CEO, acting on the complaint, has also written a letter to the returning officer of Thoubal district in this regard and urged to take appropriate action into the matter.
It may be mentioned that the Punjab National Bank (PNB) is also in the process of declaring James as a wilful defaulter as he has failed to repay the loan even three years after the account turned into a non-performing asset due to non-payment of dues.
According to the report, the Punjab National Bank in its notification stated that the total recoverable dues from the defaulter is Rs 116 crore.
The bank had also field a recovery suit into the case at DRT, Guwahati on December 30, 2017.