Meghalaya Chief Minister Conrad K Sangma on Tuesday said that National People's Party (NPP) has ensured that the Government was 'pro-people' and was pushing the agenda for equitable development in the State.
"We don't have any extra ordinary intelligence. If there is anything extra ordinary it is our will and commitment and our desire to work. We don't have big brains but big heart and it is our sheer commitment and love for the people that pushes us to work," the Chief Minister said at a felicitation programme held at Nongpyndeng Presbyterian Church in Nongstoin under West Khasi Hills.
Assuring that the current MDA Government is a "people's Government", he said, "Because our commitment is there for the people, our MLAs from different parts of the State are keeping us abreast with issues and concern of the people."
Acknowledging the fact that West Khasi Hills requires a lot of development works, especially road connectivity, the Chief Minister said, "Our Government has the desire to improve infrastructure in West Khasi Hills as well as ensure equal development in all other districts of Meghalaya. We want the State to grow in all areas of development."
He told the gathering comprising religious leaders, church organisations, NGOs, civil society and public of West Khasi Hills that Government has charted out different development projects for the district, especially roads.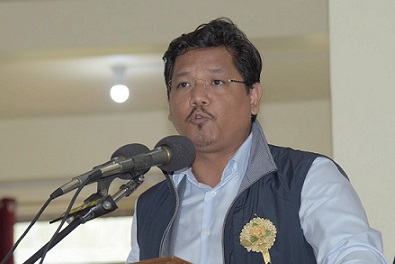 "We have representation of MLAs from all districts of Meghalaya except South West Khasi and we are confident that after the by-election in Ranikor, we will add one more MLA in the MDA Government, and would work to fulfill the aspirations of the people," he added.
He told the gathering that NPP as a political party is standing up for the Christians and other religious minorities in the country. "If there is any party that is standing up for our people and the Christian community including other religious minorities, it is the NPP. We have been aggressively voicing the issues and concerns of the people at different levels and with the Central Government."
Deputy Chief Minister Prestone Tynsong, Industry and Commerce Minister Sniawbhalang Dhar and other MLAs were also felicitated by different organisation at Nongpyndeng Presbyterian Church in Nongstoin, West Khasi Hills on Tuesday.
The Chief Minister led by other ministers also met different organisations of the district and have assured to look into the problems.