The Election Commission of India (ECI) has ordered re-polling at a polling station in 37- Tyui Assembly constituency in Wokha district under Nagaland parliamentary constituency.
The Nagaland parliamentary constituency went to general election in the first phase on April 11, 2019.
The Election Commission of India has fixed April 25, 2019 as the date for re-poll at the polling station No 31 Riphyim Old-III.
Fresh polling in the polling station will be held from 7 am to 4 pm.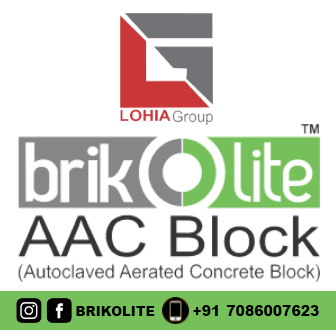 Also read: Nagaland deputy CM Patton violates EC norms, says NPCC
An order issued to the chief electoral officer, Nagaland, Arvind Anand, secretary, ECI stated: "I am directed to state that on the basis of available reports and after taking all material circumstances into account, the Commission hereby declares, under sub-section (2) of Section 53 of the Representation of the People Act, 1951 that the poll taken on 11 April, 2019 (Thursday) at Polling Station No. 31, Riphyim Old III of 37-Tyui Assembly Segment of 01-Nagaland Parliamentary Constituency to be void and appoints 25th April, 2019 (Thursday) as the date and fixes the hours from 7.00 amt 4.00 pm, for taking fresh poll at the said polling station in accordance with the Commission's instructions contained in Chapter-X[II of Hand Book for Returning Officers."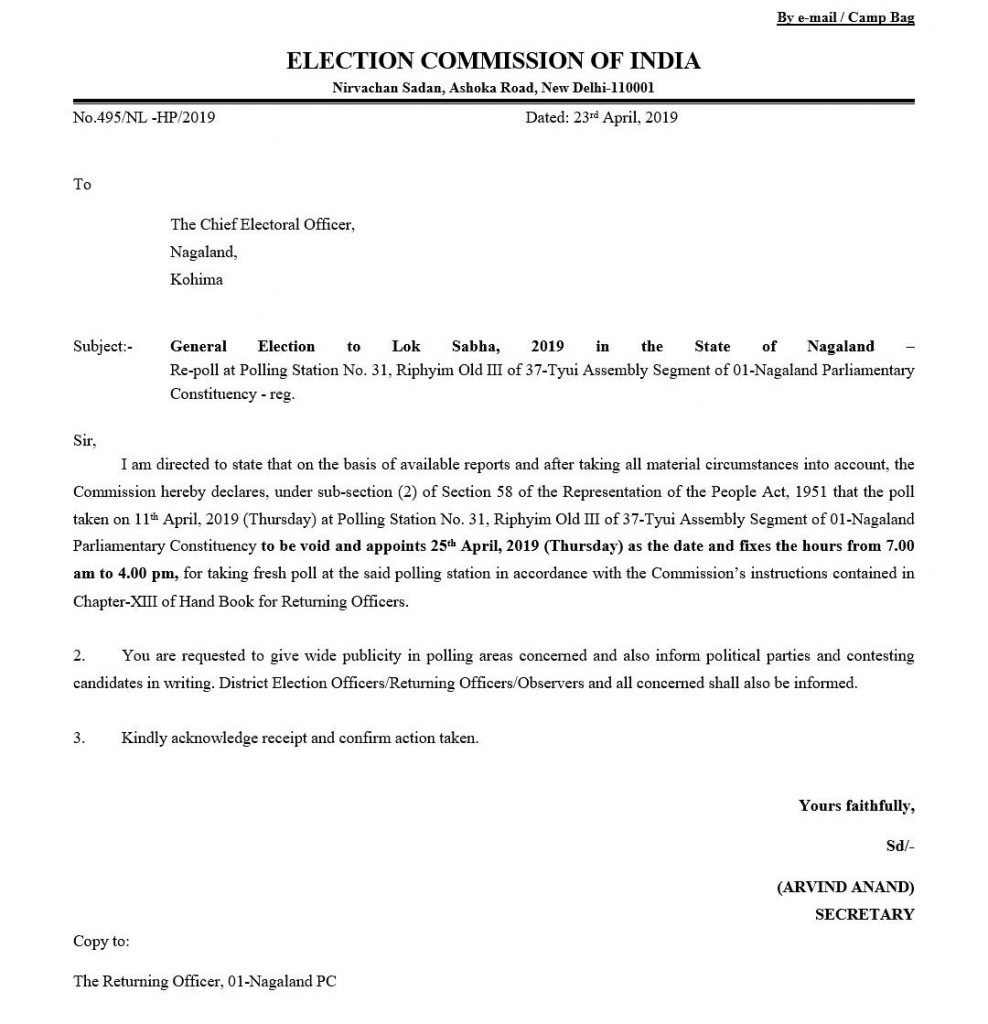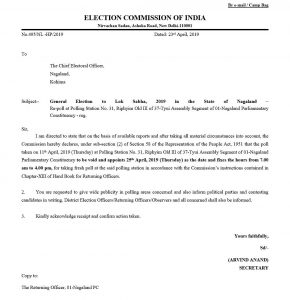 It may be mentioned that the Nagaland Pradesh Congress Committee (NPCC) alleged that Nagaland deputy chief minister Y. Patton violated Election Commission norms at polling station No 31 at Riphyim Old-III under Tyui Assembly constituency during the poling day for the lone Lok Sabha seat in the state.
A media report quoted chief electoral officer of Nagaland Abhijit Sinha as saying: "This decision was taken based on the video and other evidence that we forwarded to the ECI."
NPCC communication department, in a release, said Patton was first seen wearing BJP's scarf, which is illegal, on the polling day and then he was caught on camera entering the polling station with seven to eight voter slips and proceeding to vote.
"Such disregard and blatant violation of election rules by the home minister has brought disrepute to the office he holds," the release had said.
Condemning what it called "irresponsible" and "blatant act", the NPCC said it had apprised the Nagaland chief electoral officer Abhijit Sinha to take cognizance of the "shameful act" perpetrated by none other than the deputy chief minister, who also holds the home portfolio.
An FIR was filed by the NPCC seeking action against Patton.
Following the re-poll order, the NPCC has reportedly stated that the ECI ordering re-polling at polling station No 31 Riphyim Old-III "vindicates" its stand that Nagaland deputy chief minister Patton, "violated Election Model Code of Conduct and also committed criminal offence of voting multiple times in full view of camera".