Electioneering for the by-poll to Nagaland parliamentary constituency slated for May 28 will end at 4 pm on Saturday.
Nagaland Chief Electoral Officer (CEO) Abhijit Sinha has directed the district and police administration to ensure that all the political functionaries, who have come from outside the constituency for electioneering, leave the constituency immediately after the campaign period.
The CEO, however, stated that the restriction may not be insisted upon the office bearer of the political party who is in-charge of the state. Such office bearer of the political party should declare his place of stay in the state headquarters and his movement during the period in question should remain confined normally between his party office and place of his stay, he said.
The last 11 days of intense campaigning by the contesting parties – Opposition Naga People's Front (NPF) and ruling People's Democratic Alliance (PDA) led by Nationalist Democratic Progressive Party (NDPP) – across the state witnessed personal barbs, allegations, ongoing Naga talks, reduction of VIP culture and attacks on previous Democratic Alliance of Nagaland government headed by TR Zeliang and the activities of PDA government led by Neiphiu Rio.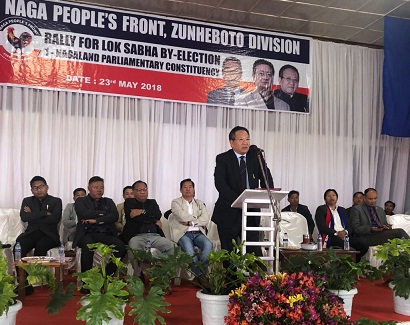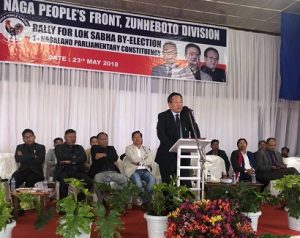 The PDA launched its campaign for its consensus candidate Tokheho Yepthomi here on May 15 while Opposition NPF launched its campaign for its candidate C Apok Jamir in Kohima on May 16. The by-poll will witness straight contest between the two parties.
The Congress and NPF have joined hands to give a combined fight to defeat the PDA candidate.
The Congress said it had decided not to contest the by-poll as the NPF announced its candidate for the seat after having agreed in principle to its proposal for setting up a combined opposition candidate to uphold the principles of secularism and democracy.
The Aam Admi Party has also extended its support to the NPF candidate.
During the campaign, chief minister Neiphiu Rio assured that addressing people's grievances is priority of the PDA government.
Leader of Opposition TR Zeliang made scathing attack on the ruling government for what he called "hypocritical acts" practiced in just two months of being in power.