Fate of 195 candidates from nine political parties and independents contesting in the 59 Assembly constituencies out of 60 will be decided as Nagaland goes to polls on Tuesday. Polling will be held from 7 am to 4 pm with security measures put in place.
Over 200 companies of Central Armed Police Force and state police have been deployed for poll duty.
There are 11,91,530 voters this times, an increase of about 2000 voters from the last general elections. Counting of votes will take place on March 3.
Nagaland Chief Electoral Officer Abhijit Sinha on Monday said all preparations have been set in motion to conduct free and fair polling in the state.
The polling stations have been classified under three categories – critical, vulnerable and normal. Presently, there are 1,100 critical, 530 vulnerable and 566 normal polling stations which were classified by DCs and SPs and respective administrative officers.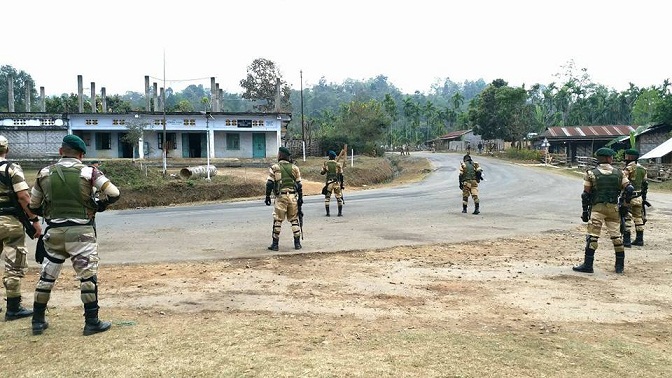 The CEO said as per the order of the Election Commission of India all the votes for this general election to the Nagaland Assembly will be given and recorded by means of Electronic Voting Machines (EVMs) and Voter Verifiable Paper Audit Trail (VVPAT) printers.
The CEO said sufficient number of EVMs and printers for printing VVPAT are available for polling in all the Assembly constituencies.
He also informed all electors who have been issued Electors Photo Identity Cards (EPICs) shall produce their EPICs for their identification at the polling stations before casting their votes. Those electors who are not able to produce the EPIC will have to produce one of the alternative photo identity documents for establishing their identity.
To ensure free and fair elections, web-casting will be done in all those sensitive polling stations where internet connection is feasible and rest will be covered by videography by fixed cameras and micro-observers.
Webcasting will be done in 555 polling stations while 1601 polling stations will be covered by videography. Micro observers have been deployed at 1010 polling stations.
Former chief minister Neiphiu Rio from Northern Angami II constituency under Kohima district was elected unopposed after his NPF rival withdrew nomination. Of the 60 seats, one seat, Dimapur-I, is open for general candidate while the remaining 59 seats are reserved ST candidates.
Kohima District Magistrate Rajesh Soundararajan on Monday imposed Section 144 CrPC in the entire area of Tseminyu sub-division under Kohima district in view of reports of violence. The voters going to their respective polling stations to cast their vote on Tuesday have been exempted from the purview of the order, he said in an order.
Elsewhere in the state, prohibitory order has been promulgated in Mokokchung, Phek and Kiphire district in view of the apprehension of possible breach of peace and disturbance of public tranquility thereby vitiating the smooth conduct of election in the district.