The Nagaland Government on Saturday banned firing of live rounds while celebrating marriages, religious functions or social gatherings and deemed as illegal and liable for legal action as per provisions of the Arms Act.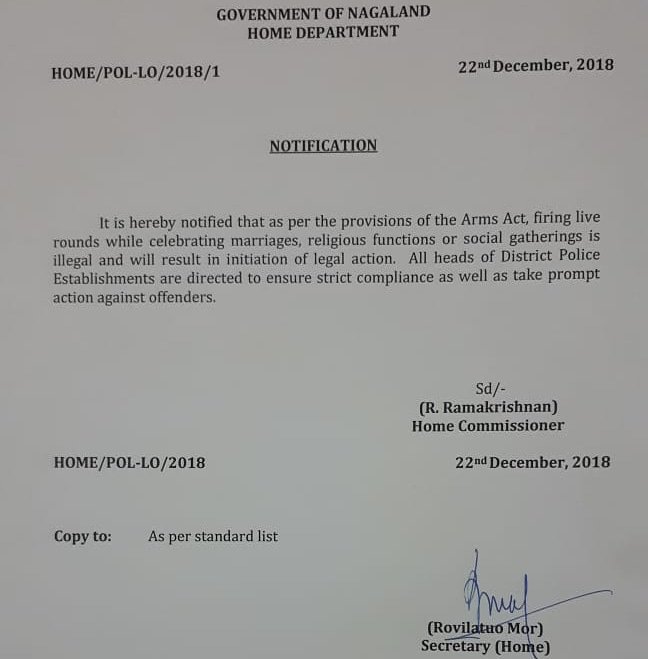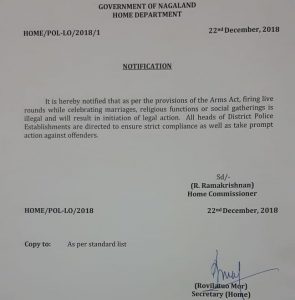 In a notification dated December 22, 2018 issued by Home secretary Rovilatuo Mor, the State Government also directed all heads of district police establishments to ensure strict compliance and to take prompt action against offenders.
The notification came following a freak accident where one person was accidentally shot and killed by the service weapon of a local legislator's bodyguard in a village in Mon district.
The video of the accidental shooting went viral on social media.
It initially showed the local MLA firing the service pistol in celebratory mood. However, when the pistol got jammed, the MLA handed it over the PSO.
The bodyguard is seen trying to clear the chamber but in the process, the gun went off and the bullet hit one person who was among the party.
Meanwhile, in another notification issued by Home secretary Rovilatuo Mor, the State Government banned use of service weapons for any purpose other than those for which they were meant.
The government warned that personnel issued with such weapons would be held personally responsible for any aberration.