A cash reward of Rs 10 lakh was handed over to Manipur's well-known singer Mandakini Takhellambam in recognition to her outstanding performance at Zee TV's Sa Re Ga Ma singing reality show at a simple but solemn felicitation ceremony held at Chief Minister's Secretariat on Saturday.
Chief Minister N Biren Singh, Deputy Chief Minister Y Joykumar Singh, Consumers Affairs Food & Public Distribution Minister Karam Shyam, Principal Secretary to Chief Minister Rakesh Ranjan and officer on special duty to Chief Minister Sumant Singh were also present at the occasion.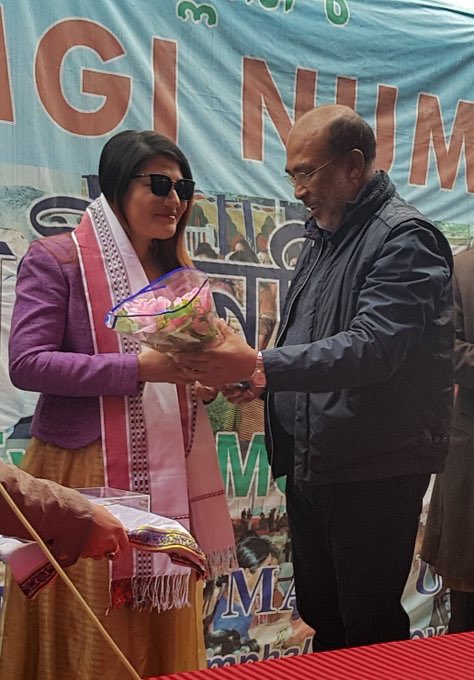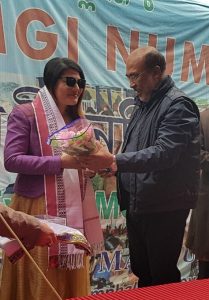 The occasion turned out to be a momentous one for Mandakini as it was organized before a huge crowd gathered at the complex for the combined Meeyamgi Numit and Hill Leaders' Day of this month.
Meeyamgi Numit and Hill Leaders' Day were organized by the State Government on 15th and 10th of every month since May last year to hear the grievances of the public.
Biren also presented a bouquet and a traditional scarf (lengyan) to her amidst a huge round of applause.
Congratulating Mandakini for her fine performance that could secure a place in top 11 of the popular TV reality show and win millions of heart all over the country and the world, Biren observed that hard work, struggle and hard-earned achievements should always be acknowledged and encouraged.
He expressed gratitude to his Council of Ministers and the MLAs for instantly showing willingness and interest when he brought up the matter of rewarding Mandakini.
Lauding Mandakini for making Manipur more popular, he also extended his best wishes for her future life and career.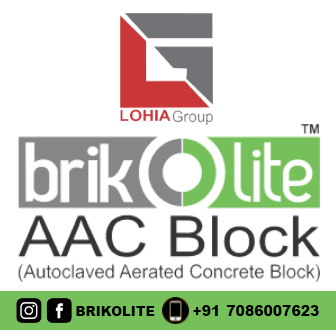 Sharing her thoughts Mandakini expressed her profound thankfulness and respect to the Chief Minister for his unstinting support and encouragement.
She said that it was a matter of huge pride and extreme joy that she was the only contestant, who received support from the Chief Minister of their states.
Mandakini, who even got emotional and tried to hold back tears of happiness during her brief speech, said that she felt so humble when she conveyed to the judges and contestants about Chief Minister's support for her.