Implementation of the well-designed Integrated Farming System (IFS) based on the respective locations may play a key role in realising Prime Minister Narendra Modi's vision to double farmers' income by 2022 in the NE hill States. This has been observed by experts.
"For successful implementation of the IFS in the region, we need quality seeds including climate resilient ones, planting materials, rain water harvesting etc.," said Prof M Premjit, Vice Chancellor of Central Agricultural University (CAU) Iroishemba in Manipur.
"We've even submitted a research based strategies on implementation of IFS in NE hill states to the concerned authority," added Prof Premjit.
IFS is a farming practice meant for all-round development of agriculture with animal husbandry and other occupations related to core agricultural practices. IFS can be taken up with fishery and piggery along with rice cultivation or fishery with vegetable and rice based on the locations of the fields as it has the capability to make the sector profitable.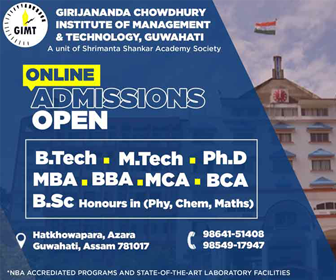 "But the government alone cannot provide quality seeds for successful implementation of IFS considering the lack of assured irrigation in the region. Providing irrigation will take time. Even if irrigation facilities are provided in the valley, it would be a difficult in hills except the rainwater harvest (or spring water harvest)," Prof Premjit said.
Considering the demand of quality seeds, scientists of CAU in collaboration with the farmers have taken up some initiatives in Andro area and produced 150-170 metric tonnes of quality (paddy) seeds for supply purposes. "It is appropriate to introduce in the region considering the existing small land holding systems. It is also suitable on the foothills too," Prof Premjit added.
"Again integration of crops in the field with bee keeping activities will again help in increasing crop production from 15 to 20 per cent besides improving its quality up to 4 per cent," he added.
CAU is also making some IFS models in our university's land by making ponds, etc. "Our initiative in Andro area in collaboration with the farmers has yielded production of 150-170 metric tonnes of quality (paddy)seeds to supply," he said.
For that matter, CAU has various kind of skill development programmes and other farmer-oriented activities have also been underway in different agricultural, animal husbandry and fishery sectors across seven colleges out of 13 colleges under CAU, which is the largest agricultural university of the country.
Sharing a similar feeling, Prof Ratan Kumar Saha, Director of Extension Education, admitted that IFS can be a major option to increase farmers' income in the region if "our farmers have the quality cultivation materials and other scientific methods".
The university has seen many success stories in Tripura where fish production increased 108-686 per cent and rice production to the tune of 27 per cent.
Prof Ratan Kumar also informed that IFS can help in reducing the jhum cultivation areas in the region as well considering its potentials.
Manipur's total jhum area is said to be around 1,22,147 hectare  in 2017, according to Manipur Remote Sensing Application Centre. About four lakh families practise jhum cultivation covering a land area approximately 3,86,300 hectare annually in the Northeast.
In the recently-concluded Indian Science Congress at Manipur University, UK Behera, Dean, College of Agriculture, CAU, Meghalaya, said IFS can be a powerful tool to double farmers' income and improve their lives.
It may be mentioned that Prime Minister Narendra Modi government at the Centre has set a target of doubling the farmers' income by 2022, the 75th year of India's Independence.
For this, in the next five years, the government wants to use a seven-point strategy, including increasing production, making effective use of input cost, reducing post-harvest losses, making value addition and reforms in agriculture marketing.