Manipur's star weightlifter Saikhom Mirabai Chanu struck the first gold for India at Gold Coast Commonwealth Games 2018 by lifting 48 kg in a record breaking attempt.
The country's first gold medal came in astounding fashion on the opening day of the 2018 Commonwealth Games from world champion and CWG record holder Saikhom Mirabai Chanu, who broke six records in six lifts to finish first in the women's 48 kg.
She in total lifted 196 kg to smash her previous career best of 194 kg.
Chanu had previously won gold medal in the 48 kg category at 2017 World Weightlifting Championship held in Anaheim United States.
Earlier, she had won silver medal in the women's 48 kg weight class at the 2014 CWG at Glasgow. The gold medal at Glasgow was won by another weightlifter hailing from Manipur, Khumukcham Sanjita.
The Manipuri weightlifter had lifted 86 kg in snatch.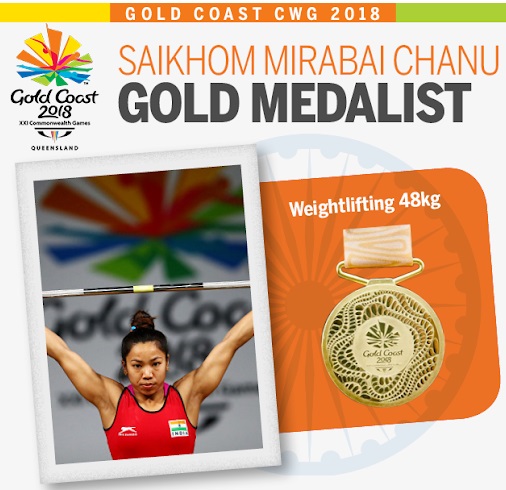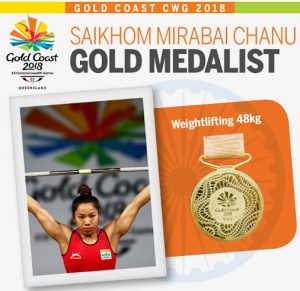 She surpassed her personal best of 85 kg and then surpassed her 109 kg clean and jerk record to lift 110 kg in the category.
Chanu's shining gold effort came hours after Gururaja won the silver in the 56 kg weight category.
She also created a new Commonwealth Games record in the process.
Meanwhile, Indian Olympic boxer and five times World Amateur Boxing champion Mary Kom was among the first to congratulate Mirabai Chanu.
In her tweet, Mary Kom wrote: 'Congratulations #MirabaiChanu for #Gold!  #CWG2018 #GoldCoast #ProudMoment'.