The Narcotics and Affairs of Border (NAB), Government of Manipur has been leading the crusade against drugs menace on the north-eastern state.
Encouraged by the initiative undertaken by NAB, a young students' group, the Eco Guardians, Senapati on Tuesday launched a massive drive to destroy poppy cultivation in Senapati district of the State.
Volunteers of the group, numbering around 30 launched the drive who were assisted by village authorities in destroying the illegal cultivation of poppy in the district.
Manipur Chief Minister N Biren Singh while learning about the noble initiative lauded the efforts taken by the young students' group and the local villagers of Senapati district of his State.
In a tweet in his official Twitter handle, Chief Minister N Biren Singh wrote on Wednesday:
'I SALUTE THE PEOPLE OF THE SENAPATI DIST FOR YOUR SUPPORT AND COOPERATION
A young student's group (Eco Guardians, Senapati) numbering around 30, volunteered; while the Village Authorities also assisted the Poppy Destruction.'
Notably,  security agencies have destroyed poppy cultivations worth around Rs 47.60 crore at different parts of the State's hill districts in recent times.
The renewed drive against poppy cultivation was launched on January 11 last under the instruction of the Chief Minister and supervision of the DGP.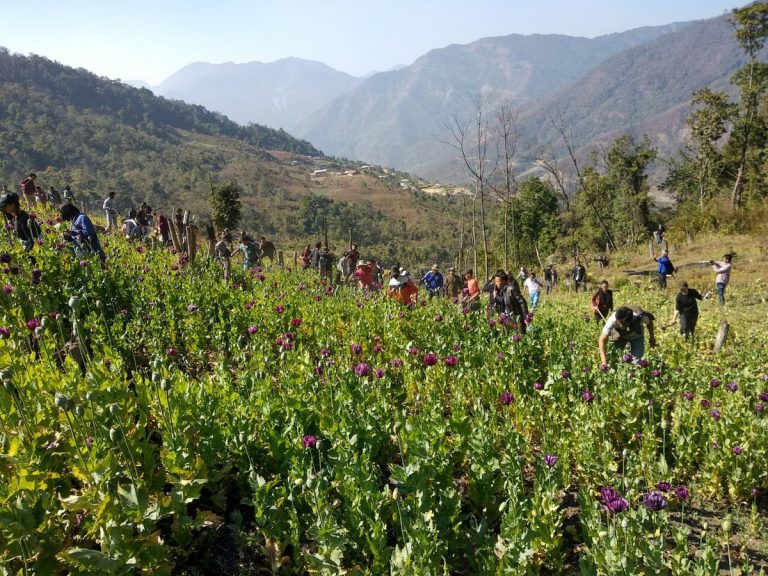 Poppy cultivation are abundant in the interior areas of Churachandpur, Kamjong, Kangpokpi, Senapati, Tengnoupal and Ukhrul districts of the State.
Earlier in January, a combined team of district administration, Senapati police, District Rural Development Agencies (DRDA) and Revenue Department destroyed poppy plants at Khabung Khuman village, under Senapati police station.
Deputy Commissioner of Senapati district  Athem Muivah, Sub Divisional Officer (SDO), Purul, Adahrii Maheo, Sub Divisional Police Officer (SDPO), Senapati, Kaisungbou, along with Senapati police were present in the drive where around 11 acres of poppy cultivation were destroyed.
Poppy plants worth more than 2 crore were destroyed.
Cultivation of poppy is banned in Manipur under Narcotic Drugs and Psychotropic Substances Act, 1985 and the farmers are liable to be booked under Section 47 and 48 of the same Act.