Manipur Governor Najma Heptulla on Thursday appealed to the State Government to extend the period of Legislative Assembly session to give more room for the legislators to discuss state issues.
The Governor said this at the inauguration ceremony of Manipur Legislative Assembly Museum and Archives at old Manipur Legislative Assembly building on Thursday.
The Governor also lauded Assembly Speaker, Y Khemchand and his official team for taking up the initiative to set up Manipur Legislative Assembly Museum and Archives which is the first of its kind in the State.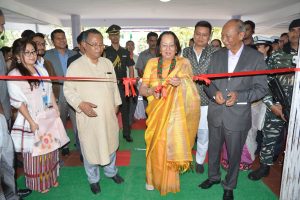 Asserting that its main purpose is to collect, preserve, research, exhibits and interpret historical documents and material for public knowledge and education, Heptulla said the museum and archives will be a wealth of the glorious political history of the State.
Stating that Manipur Legislative Assembly is rendering a 'great service to posterity for the young generations by establishing its museum and archives', the Governor exuded confidence that the students and followers of Manipur political history will be richly benefitted from the museum and archive.
The Assembly Museum and Archives which was set up to highlight the rich political history of the state has an assembly hall, speaker's chamber, former committee room and former sound and monitoring unit and has a total of eight galleries which include chief minister's gallery, governor's gallery, art gallery, hill area committee chairman's gallery, deputy speaker's gallery, secretary's gallery.