The Asom Andolan Sangrami Satirtha Manch (AASSM) took out a 'Padyatra' as part of the protest against the Bharatiya Janata Party-led Central Government's move to grant Indian citizenship to illegal migrants including Hindu Bangladeshis by implementing the Citizenship (Amendment) Bill, 2016 on Wednesday.
The rally marched from Ganeshguri to Raj Bhawan in Guwahati.
Senior leader of the Asom Gana Parishad (AGP) and former Assam Chief Minister Prafulla Kumar Mahanta, general secretary of the pro-talk United Liberation Front of Asom (ULFA) Anup Chetia, historian Udayaditya Bharali and journalist Manjit Mahanta from the Citizens' Forum (Nagarik Manch) and several others joined the 'Padyatra'.
Talking to the media, former Assam CM Mahanta said, "If the Citizenship (Amendment) Bill 2016 is passed by the Parliament, it would be an insult to the historic Assam Accord."
Reacting to Assam Chief Minister Sarbananda Sonowal's stand on the Bill, Mahanta said, "The State Government has not been able to make its stand clear on the Bill till date as Union Home Minister Rajnath Singh has already said that the Central Government would implement the Bill."
Mahanta, further reiterating the AGP's opposition to the Bill, said, "We won't allow the Centre to pass the Bill as it would be a major threat to the identity of the ethnic communities of the State."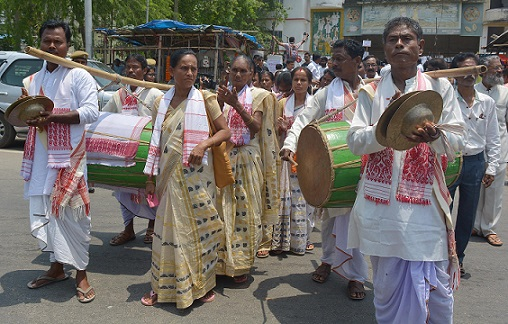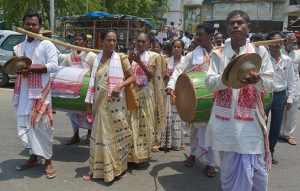 The AGP leader while citing the Conrad Sangma-led Meghalaya Cabinet's decision to denounce the Bill, where BJP is also a part in the coalition Government, said, "The Assam Government should learn something from the Meghalaya Government."
Anup Chetia appealed to CM Sonowal to set an example by denouncing the vexatious Bill as Conrad Sangma-led Cabinet did in Meghalaya.
Chetia alleged that Sarbananda Sonowal has become a puppet of the Centre. "You have to establish yourself as a Jatiya Nayak once again," Chetia asked Sonowal.
Sadou Asom Gariya Maria Yuba Chatra Parishad, All Assam Tea Tribe Students' Union (AATTSU), Asom Jatiyatabadi Yuba Manch, Asom Jatiyatabadi Unnayan Manch and International Human Rights Association joined the rally.
Demanding implementation of the Assam Accord to identify and deport illegal migrants from Assam, the protesters also submitted a memorandum to Assam Governor Jagdish Mukhi at the Raj Bhawan.