On the neighbourhood of a posh south Delhi a teenage girl in a shabby dress and in pensive mood is seen one morning watering the lawns of a bunglow. Her name is Mini, hailing from a tea garden from Assam who was brought to Delhi by a placement agent promising a good job.
Jawny, a mother of six from Balijaan of Koilamari Tea Estate in Lakhimpur district has been waiting for last ten years for her eldest daughter Carmella.
She alleges that one Rafael Kujur of Ujjwalpur, Leelabari took away Carmella, six years old then, from their home in her absence. Kujur took Carmella to Delhi to be engaged in domestic work. Since then Jawny has received no information about her daughter. Unfortunately she doesn't even have a photo of Carmella.
Is Carmella the same girl seen in Delhi like a 'lost and found' story of Bollywood? There are many such stories of missing girls from tea gardens of Assam who had been taken by someone and become Mini never to be back again.
Roopali Barla, daughter of late Remes Barla of the Doolahat Tea Estate, Lakhimpur has not returned home ever since she was taken away by a local agent 12 years back. Her widowed mother has no idea of her whereabouts. Similarly Hawamani, daughter of Nandalal, the sweeper of the same tea garden was taken away by a local agent named Paul ten years ago. Hawamani has not returned home ever since. Tinu Karmakar, a labour from No. 20 Line of Doolahat Tea Estate is also waiting for his daughter Teresa taken away by an agent Simanta Tanti six years ago.
Similarly 12-year-old Ranee was picked up by one Deepak Chetry of Banderdewa from her mother Holy Malpahari from No. 15 Line of Zoihing Tea Estate seven years ago. Since then there has been no news of Ranee for her parents. There is also no news of Nikita, 12, daughter of Samra Malpahari of the same labour line of the tea estate. Nikita too was taken away by an agent to be engaged in domestic work in Arunachal Pradesh seven years ago.
Carlos Dhela, a labour from Zoihing tea estate of Lakhimpur district lost his seven- year-old daughter Suman as somebody had kidnapped her from the road in front of his home. Temu, a woman labour from Zoihing Itabhata lost her daughter Tuntuni eight years ago when she was eight years old. According to her, a man working in a mobile tower construction site near her home took Tuntuni away. Now Temu has only a worn-out photograph of her lost daughter Tuntuni.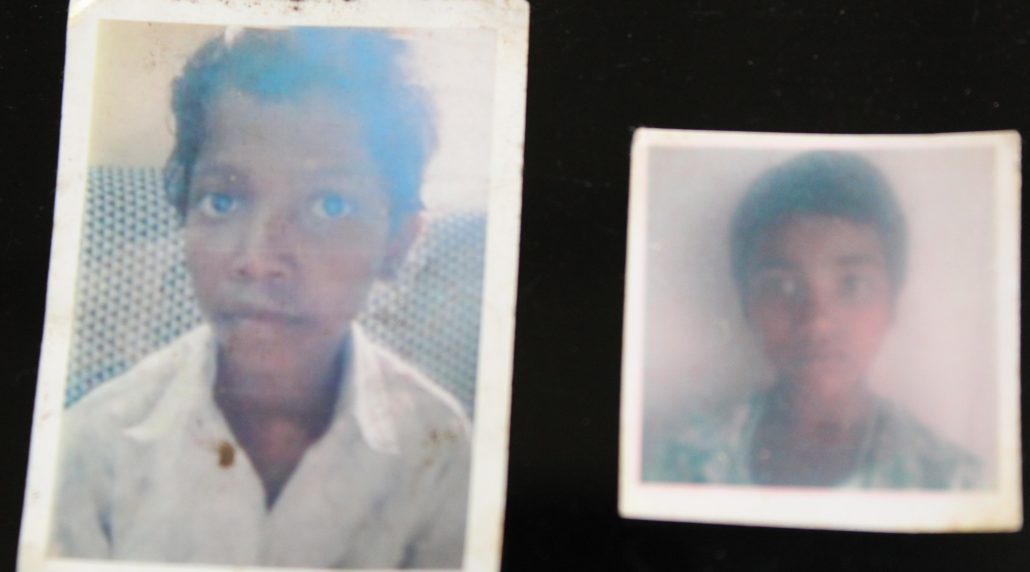 Ursula Kulu, daughter of Santosh and Monica Kulu of Akarabasti, Serajuli Tea Estate, of Lakhimpur district has been missing since 2011 when she was 12 years old. She was taken by one Tarsiers Carla and Silas Belung to a person from Sector-C in Naharlagun, Arunachal Pradesh for work as a domestic help on September 28, 2011. On September 30, 2011 Ursula's mother Monica was informed about her missing from that home in Naharlagun.
Monica went to the home in Naharlagun in search of her missing daughter on the next day and was told about Ursula's disappearance. A report in the local police station and a missing advertisement on a local newspaper was also shown to Monica by Ursula's employer.
Since then Ursula has been untraced. Unfortunately, her parents could not remember the name of the person from whose home Ursula went missing nor do they have the copy of the newspaper advertisement.
Similarly Salmi Munda, an orphan from the same village was taken away by one Victoria Kulu in 2011 for work outside Lakhimpur. Ever since, there has been no trace of Salmi.
The same Akarabasti village has the missing case of one Carmela Sawra, 7, daughter of Tarsiers and Burtela Sawra was given to a person from Itanagar, Arunachal Pradesh in 2007. Since then they are receiving no news of their daughter Carmela.
Mangal Bhumiz, a fellow villager gave his daughter Munni Mhumiz to his friend who took her to a person in Banderdewa, Arunachal Pradesh. For the last 12 years, Mangal is searching his daughter in vain. The employer of his daughter in Banderdewa also told him that Munni had been missing from his home for a long time.
These are few examples of girl child trafficking which has been going on among the tea garden labour community of Assam since a very long time. Earlier these were considered to be a destiny to be slaves. Now modern slavery is a crime and it requires immediate intervention by all stakeholders.
These cases of girl child trafficking in Lakhimpur have been happening just 10 kms away from the district headquarters North Lakhimpur. Lack of awareness and the prevailing socio-economic atmosphere among the tea-garden workers are the main reasons for the rise of this menace affecting young girls.
Despite earning wages from the tea gardens where they work, these communities are affected by high amount of alcoholism and debt. To cope up the problems affecting their daily lives, most of the parents send their young daughters for work outside.
The rackets that operate girl child trafficking and their agents roam the villages and labour settlements of tea-gardens and take these girls from their parents promising handsome salaries.
In most of the cases the parents were told that their girls would be taken to nearby Arunachal Pradesh for work. But actually the whereabouts of these girls are not confirmed and most likely they have been trafficked to Delhi, Haryana and other places.
A pro-active and coordinated approach by the police, state social welfare department, tea garden companies and public can bring an end to the long waits of these missing girls from Lakhimpur who have been trafficked many years ago and which is still happening.