Kazakhstan Ambassador to India, Bulat Sarsenbayev on Saturday called on Assam Governor Prof Jagdish Mukhi at the latter's office in Raj Bhavan and discussed issues to advance mutual interests between Kazakhstan and Assam.
The Ambassador who is on a tour to Assam met Governor Prof Mukhi and the duo discussed areas of mutual interests particularly sectors pertaining to  tourism, power and bi-lateral trade. Kazakh Ambassador Sarsenbayev while informing the Governor said Kazakhstan consumes 75 per cent of Assam's tea as the tea of the State claims high demand in his country. He also hailed the tourism potential of Assam, more particularly the tourism stemmed from tea and wild life.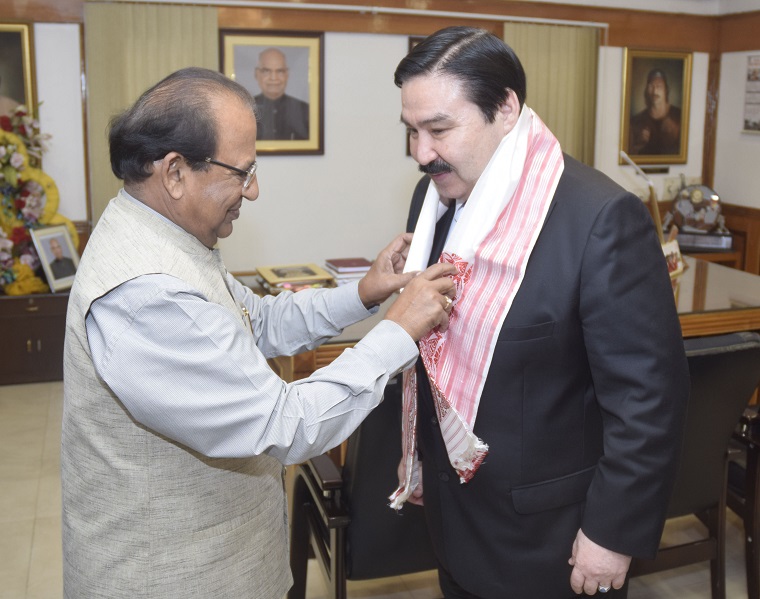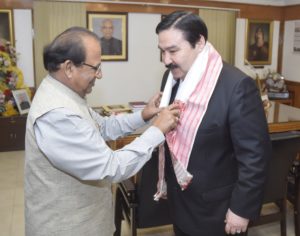 Governor Prof Mukhi drawing the attention of Kazakh Ambassador about the ensuing Global Investors' Summit to be held in Guwahati on February 3 and 4 requested Sarsenbayev to ensure Kazakhstan's participation in the Summit.
He also requested the Ambassador to send a business delegation to Assam during the investors' summit to witness business and investor friendly climate brewing in the State. The duo also discussed that based on the cultural and historical affinity between the people of India and Kazakhstan, the relations between the two geographical entities should be enhanced in the spirit of friendship and partnership.
Ambassador Sarsenbayev also assured the Governor that needful will be done from Kazakhstan to ensure his country's participation in the first ever Global Investors' Summit tagged as Advantage Assam in February.