Five passengers of a boat had a close shave when the country boat in which they were travelling from Jengraimukh in Majuli capsized near Nimatighat in the Brahmaputra.
The Inland Water Transport Department (IWTD) divisional executive engineer in charge of Jorhat and Dibrugarh D Baglari told Northeast Now that an IWTD ferry saved the five persons who were bringing milk to Jorhat from Majuli.
Their boat had overturned about 200 metres from Nimatighat and all the 14 containers of milk loaded on the boat and the boat were washed away.
Baglari said that the names and addresses of all five were noted down by the police officer in charge of Nimati outpost.
"They should not have tried to navigate the river in a row boat at this time when the monsoons had started and the current was strong," Baglari said.
A source at the Nimatighat said that there was a great possibility of other mishaps taking place as most of the boats now ferrying passengers from the ghats of Majuli    Kamalabari and Aphalamukh operated by IWTD, were small in size.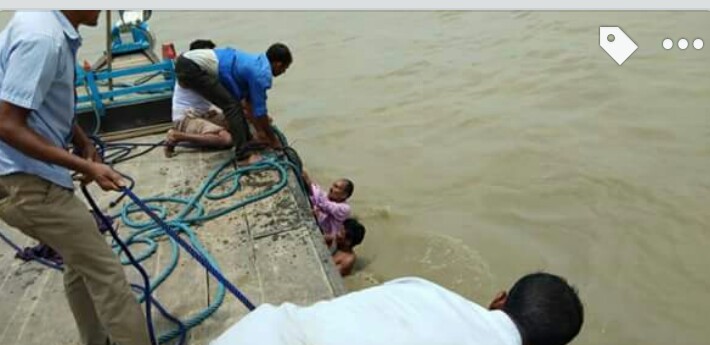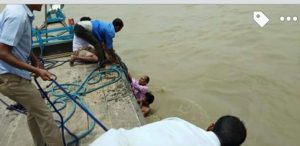 "Lessees no longer operate on these routes and individuals, on payment of Rs 875 per one way trip, have been assigned these routes.  Those who earlier had big ferries operated by lessees have been shunted out and politics rules which individual's application will be selected for plying from the Kamalabari and Aphalamukh ghats," he alleged.
He further said that almost all the big ferries which were run by lessees in the earlier Congress government were sitting idle.
"Despite applying several times by these individuals their applications are rejected for one reason or the other," he said.
"The sabka saath, sabka Vikash slogan of the BJP government is a sham and they too play political favourites," he said.
"Even in the other ghats, Dakhinpaat, Sumoimari and Salmora where the lessee system is in place but is yet to be started, the boats operating now are very small due to which people are left behind and have to make the precarious journey by country boats, as happened today," he further said.
"At Aphalamukh Ghat in Majuli for the past one week a few motorcycles have slid into the Brahmaputra at the Ghat itself due to inexperienced people plying the ferries," the source said.
The source further said that a few  individuals who had been selected for plying ferries to and from the Kamalabari  and the Aphalamukh  ghats to Nimatighat did not even own ferries of their own or hurriedly bought one at a cheap cost from those who had become unemployed due to the  construction of the Dhola to Sadiya bridge. These boats are also overloaded," he said.
A school student had died near the Kamalabari after falling off a ferry a few days ago and his body was yet to be found despite the SDRFs continued efforts.