A seven-day-long International Friendship Paniting Symposium-cum-Cultural Festival got underway from Saturday at the premises of Kokrajhar Music and Fine Art College, Habrubari in Kokrajhar.
Artistes and sculptors from 10 countries including India, UK, Thailand, Vietnam, France, Iran, Italy, Bangladesh, Romania and Russia have participated in the ongoing art and cultural festival.
The festival will come to an end on March 23.
As part of the programme, the Chief Guest of the inaugural programme, Bodoland Territorial Council (BTC) Hagrama Mohilary illuminated the ceremonial lamp in presence of guests and dignitaries followed by the welcome address delivered by Larlie Brahma, Principal and coordinator of the festival.
In his inaugural speech, BTC Deputy Chief Kampa Borgoyary said the BTC region witnessed social unrest for around four decades due to the Bodoland movement but peace has prevailed in the region after the signing of the BTC Accord in 2003.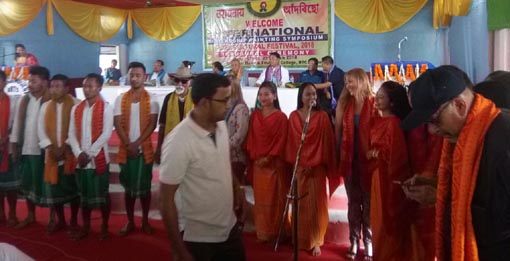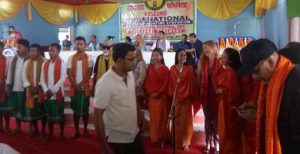 The rich cultural heritage and art and culture has still remained unexplored due to social unrest for long, said Borgoyary adding that there were no proper educational institutions and other infrastructures in BTC region earlier but now there is university, technical institute, engineering college and other infrastructures besides fast development has been taking place in other sectors.
The BTC Deputy Chief regretted that the lone college for art and culture – Kokrajhar Music Fine and Art College has not been provincialized till date.
He also said Bodoland is a land of peace where the people have hospitality, tolerance, acceptability and high morality and said the social fusion has come back in Bodoland.
Justin Mills of UK said, the festival is a unique example of togetherness between the East and the West. He also said it was a symbolic union for creativity as they have come from every corner of the world with great opportunity expecting ties and other aspects.
Dr Shekar Brahma, Registrar of Bodoland University said, "Bodoland region is rich in cultural heritage which needs to be explored."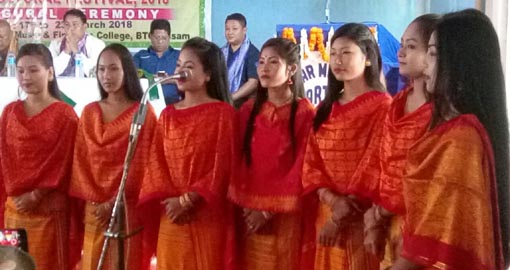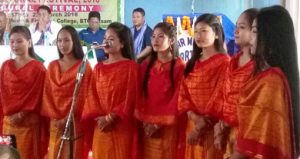 Brahma said the region has many talented sculptors in rural areas but they are not getting opportunities and privileges. He also said, the presence of artistes from abroad is an inspiration for the students and teachers of the locality and it is the collective responsibility to upgrade the existing Kokrajhar Music and Fine Art College.
BTC Chief Mohilary, who was the Chief Guest, said artistes coming from various countries including the West is cementing the cultural and emotional ties between each other. He also called upon all to maintain peace and communal harmony in the region to explore all hidden talents in all spheres.