Guwahati Planetarium is all set to give the sky-watchers of Assam and Northeast, an experience of three astronomical events – total lunar eclipse, Mars opposition and Mars' close approach to Earth from July 20 to August 7, 2018.
The total lunar eclipse will occur on July 27, 2018.
Informing that the lunar eclipse will start at 11:54 PM on July 27, 2018, Babul Chandra Bora, curator of Guwahati Planetarium, told Northeast Now on Monday, "The total lunar eclipse will occur at 1:00 AM and it will last till 2:44 AM on July 28, 2018 – total 1 hour 44 minutes.  The eclipse will be completely over at 3:49 AM."
It is expected to be the longest blood moon witnessed in 100 years.
The Moon will be visible in a scarlet red hue for over 1 hour and 44 minutes, which is 40 per cent longer than any other blood moon measured in recent times.
The opposition of Mars will also occur on the same day, July 27, 2018. Opposition of Mars occurs when the Earth passes between the Sun and the Mars.
On the other hand, Mars will approach closest to Earth on July 31, 2018. It may be mentioned that Mars came closer to Earth than in the previous 60,000 years in 2003.
"Though the total lunar eclipse, Mars opposition would occur on July 27, in our planetarium, the visitors will be able to observe the progress of the events and also the progress of Mars' approach to Earth from July 20," said Bora, adding, "The events will be observed in the planetarium from 6:30 PM to 7:30 PM everyday from July 20 to August 7 with free entry for students."
Regarding new projects, the planetarium curator further said, "We are planning to set up an observatory well equipped with telescopes and other equipment for observing the sky."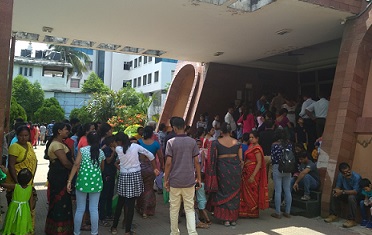 He also informed that they would also come up with an Astronomical Gallery where visitors can see meteorites."
Bora said, "A meteorite, which was found in Golaghat district, will also be added in our gallery."
The Guwahati Planetarium receives more than one lakh visitors a year with over a thousand visitors daily during the vacation season.
Entry fee concessions are available for students provided an application is submitted by the head of the respective educational institute.
The Projection Dome of the planetarium is 12 metre in diameter and three shows are projected daily – 'Cosmic collision' shows the formation of the universe, 'Journey to stars' explains the life cycle of stars, and 'Are we alone? Search for life' is a show related to extraterrestrial life.