Three years after laying the foundation stone for construction of two National Highway projects at Dhakuakhana in Lakhimpur district, residents of the area are still wondering when the work would begin.
When Union Minister for Road Transport and Highways and Shipping Nitin Gadkari on Feb 27, 2016 laid the foundation stone for construction of NH from Sivsagar to Dhakuakhana via Disangmukh and NH between Jorhat and North Lakhimpur via Majuli, people of the area expressed happiness.
But now three years on, there has been no detailed project report (DPR) on the two highway projects that cross the Brahmaputra with two bridges.
There was neither any follow up survey work, visit by experts on the project site nor any indication of any starting of work.
The laying of the foundation stone for the bridge to connect Tekeliphuta ghat with Disangmukh at Sivasagar district had created lot of enthusiasm among the locals dreaming of a better connectivity in the region.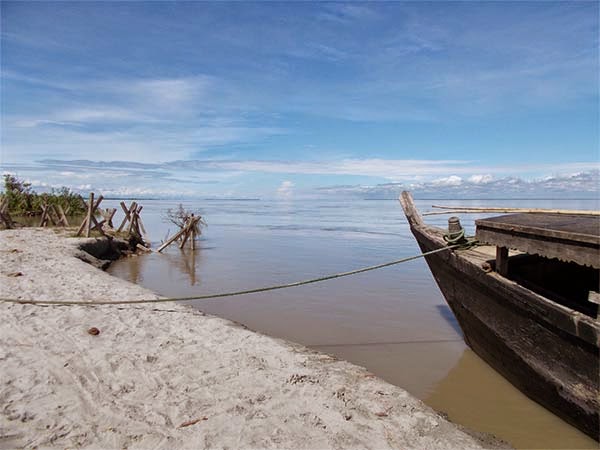 Minister Gadkari had announced that the highway and bridge project would be completed within the tenure of their government in that meeting, said a leader of Takam Mising Poring Kbang (TMPK).
"The then Lakhimpur MP Sarbananda Sonowal was also present in that foundation laying ceremony but nothing has developed since then though he (Sonowal) has become the Chief Minister of the state," he said.
He also recalled the TMPK's memorandum presented to Minister Nitin Gadkari on that occasion requesting to name Tekheliputa Bridge in the name of freedom fighter martyr Kamala Miri.
Union Minister for Road Transport, Highways and Shipping Gadkari had announced Rs 1 lakh crore for infrastructure development in Assam in the next five years while discussing several issues related to improvement of transport communication with Chief Minister Sarbananda Sonowal in New Delhi on October 25, 2016.
Gadkari announced plans to increase the Central Roads Fund to Rs 800 crore from earlier sanctioned limit of Rs 450 crore.
He has also asked the state government to identify 1200-kilomters of new stretch of road for converting the same into national highways.
In that meeting Gadkari approved Sivsagar-Desangmukh-Tekeliphuta-Dhakuakhana-North Lakhimpur-Majuli-Jorhat road project.
Yet the people in Bokulguri, Dhakuwakhona are still waiting to see works to begin in the proposed NH and bridge project.
Organizations like AASU, TMPK and Mising Mimag Kbang are now of the view that the entire foundation laying programme was an election exercise to woo the voters in the 2016 state assembly polls.
These organizations now have warned not to raise the issue of the Tekeliphuta-Disangmukh bridge and highway project in the campaigns of the ensuing Lok Sabha polls.