Amid countrywide lockdown, imposed as a preventive measure to contain the spread of COVID19, two top FCI officials, posted in the Northeast, have been suspended for failure to discharge their duties.
The suspended officials are Manmohan Singh Sarang, general manager (region), Arunachal Pradesh and Pankaj Singh Parihar, divisional manager, Silchar.
In an order issued on Thursday by FCI managing director (MD) DV Prasad said Manmohan Singh Sarang, the FCI general manager (region),  Arunachal Pradesh has "absented himself from duty" since March 3, 2020 "without any prior permission from the competent authority".
Also read: Fight against COVID-19: US announces $2.9 mn aid to India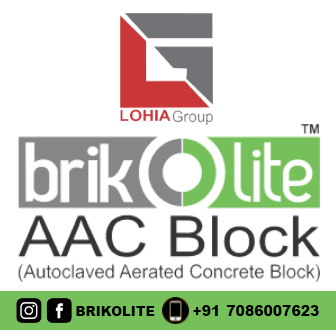 The office of the FCI managing director vide letter No. EP-32(2)/2016 issued on March 20, 2020, directed all EDs (zone) and GMs (region) that "no Category-1 officer shall proceed on leave without prior permission of Headquarters Establishment division" till April 15, 2020.
However, Manmohan Singh Sarang continued to remain absent from duty even after issuing of the instruction, the order said.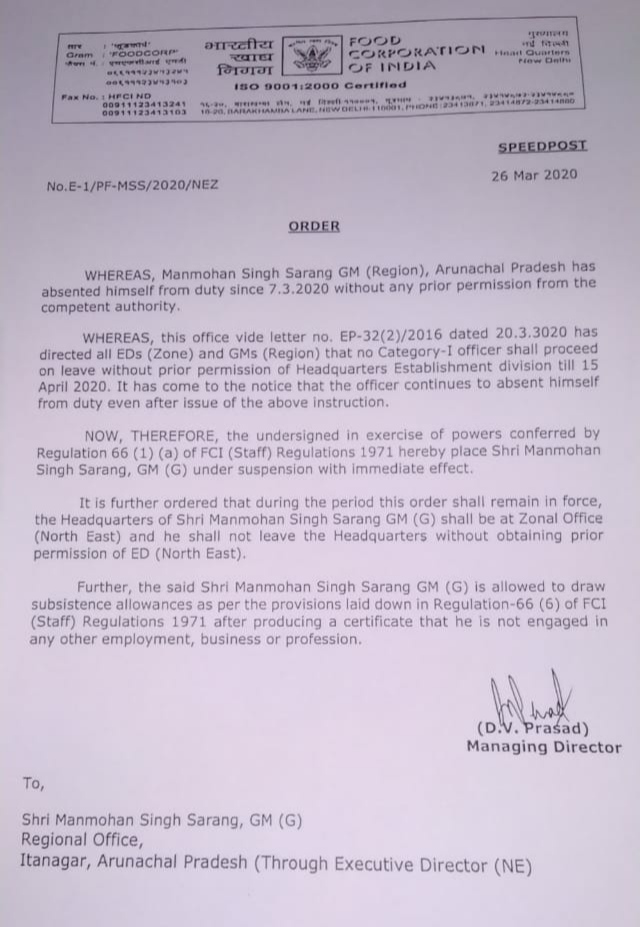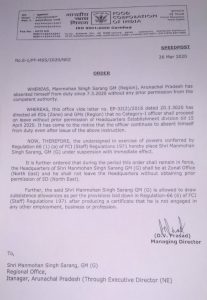 The FCI managing director in the exercise of powers conferred on him by Regulation 66 (1) (a) of FCI (Staff) Regulations 1971 placed general manager (G) under suspension with immediate effect.
"It is further ordered that during the period this order shall remain in force, the Headquarters of Shri Manmohan Singh Sarang GM (G) shall be at Zonal Office (North East)" and Sarang will not be able to leave the headquarters without obtaining prior permission of ED (North East).
However, Sarang is allowed to draw subsistence allowances as per the provisions laid down in Regulation-66 (6) of FCI (Staff) Regulations 1971 after producing a certificate that he is not engaged in any other employment, business or profession.
The 21-day lockdown was declared on March 24 midnight by Prime Minister Narendra Modi as a preventive measure to contain the spread of COVID19.
But before March 24, the lockdown was announced in several states of the country including Assam and Arunachal Pradesh.
Meanwhile, in an interview FCI managing director DV Prasad said: "there will be no food shortage in the second-most populous country".
He also said, "There is absolutely no need to worry as far as the availability of wheat and rice is concerned in any part of the country."