Like previous years, the educational hub Pathsala of Assam's Barpeta district once again shone with brilliant performances in the results of higher secondary examination conducted by the Assam Higher Secondary Education Council.
Altogether seven students from Pathsala managed to get ranks among the top ten positions of the State in the Higher Secondary Examination, 2018.
As soon as the results were declared the entire Pathsala town wore a carnival-like atmosphere with rally taken out with the successful candidates.
It was untimely Holi and Diwali on the same day for the residents of Pathsala as revellers smeared colours on each and burst crackers.
The Krishna Kanta Handique Junior College established in 2006 got the credit of six position holders.
Among them are – Niharika Goswami, daughter of Subhash Goswami, a teacher by profession and Barnali Goswami, a resident of Patacharkuchi who secured the second position in the Science stream.
Niharika secured 97 marks in English and 98 in MIL, 97 in Physics, 97 in Chemistry,94 in Biology and 76 in Mathematics totalling an aggregate of 483 marks.
She desires to take up medicine and become a doctor.
"My teachers were always ready to clear our doubts at college. This helped us a lot and I am proud of my college," she said.
Bhaskar Jyoti Kalita secured third position in the Science stream. He is the son of Harihar Kalita and Ranu Kalita of Barbang Keotpara. Both his parents are working in Arunachal Pradesh.
He wants to pursue B Tech in future.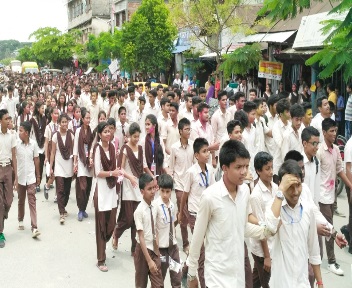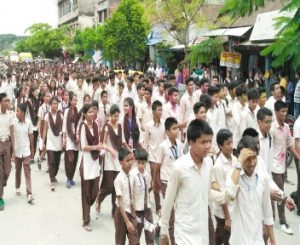 The other rank holders are Bhaswati Kalita, ranked fourth; Bhanita Roy, ranked third; Rituparna Kalita, ranked fourth and Hiyashree Choudhury, ranked sixth.
On the other hand, Fardin Rafique secured 10th position in Science from Anandaram Baruah Academy of Pathsala.
All the rank holders were felicitated by various students' bodies, organizations and political parties including AASU, AJYCP, ABVP, AGP among others.
Meanwhile, Thaneswar Malakar, Deputy Commissioner, Barpeta, Pabindra Deka, MLA Patacharkuchi LAC and a number of well wishers met the students and congratulated them for their brilliant results.