When it comes to writing, one's pen should be free and liberated. Sahitya Akademi Awardee Assamese writer and the Director of National Book Trust (NBT), Dr Rita Chowdhury said this at an august gathering on Sunday evening at Tezpur University's Kalaguru Bishnu Prasad Rabha Auditorium.
"A writer needs to be impartial, balanced and just not only to the characters they create but also to the society at large," said Dr Chowdhury.
Dr Chowdhury and Mitra Phukan, well-known author, columnist and translator attended 'Arnaswat', an Arts & Literary Festival organised by the Tezpur University Students' Council as a part of the year-long Silver Jubilee celebrations of Tezpur University.
Narrating her journey as a writer and activist, Dr Chowdhury, author of the seminal books such as "Tirthabhumi","Jala Padma","Deo Langkhui","Makam", and "Chinatown Days", said that although she started her journey as a poet, she found comfort in writing novels. "When I wrote my first novel, I was an absconding activist during the Assam Movement. In fact, as a part of Asom Sahitya Sabha's competition for unpublished fiction manuscripts, when I first wrote a novel ('Abirata Jatra', meaning – Incessant Journey) and won the first prize, I was in Dibrugarh jail," she told the audience.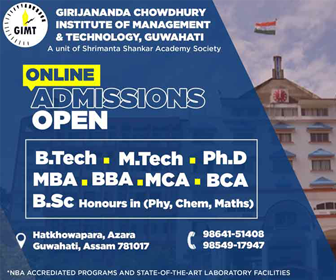 Referring to the Assam Movement, the celebrated author of the famous novel 'Ei Samay Sei Samay' said that the Assam Movement played a special role in her life and whenever she needed inspiration, she looked back at the Assam Movement from where she found purity, innocence and the motivation for doing something better for the society.
Speaking on the occasion, writer Mitra Phukan recalled the challenges of writing in English during her staring days and opined that a good writer does not repeat the same thought or the characters in their writing.
"Life is a journey and everything evolves with time and that's why may be the theme remains same but plot changes in our writings," she said.
Mitra Phukan, who is the author of 'The Collector's Wife' and 'A Monsoon of Music' also stressed that a writer needs to be excited about their story and should be open to disagreement.
"You don't want a situation, where everyone is agreeing with you whatever you are writing. There has to be some disagreement, some provocation," she said.
Earlier, the inaugural session of the literary fest was graced by Dr Birubala Rabha, a distinguished personality and social activist as the Chief Guest. It was followed by 'Voice of Silence', performed by renowned Mime artist Moinul Haque and his Mime Academy, Guwahati on Friday.
A myriad of literary and art events were organised as part of the three-day literary festival aiming to provide a platform to the students to bring out their creativity and hone their skills. A drama 'Ekhoni Nila Sador' was performed as the curtains came down.