The Department of Mass Communication and Journalism, Tezpur University on Thursday observed the 25thWorld Press Freedom Day with a host of activities.
The event started with a poster exhibition by the students followed by the welcome speech by Professor Abhijit Bora, HoD, Department of Mass Communication and Journalism, where he pointed out the very important issue of "infringement of the media by the media" and also how self-regulation becomes pertinent in practicing media as a profession.
Professor PK Das, Dean, School of Humanities and Social Sciences, in his speech highlighted the growth of social media and emphasized on self-regulation in a world where anybody can be the creator of information and news.
Professor MM  Sarma, Vice-Chancellor (Acting) shared his own experience of being a journalist for more than a decade and pointed out how things have changed in just few years and how investigative journalism has become a complicated job. He also pointed out that investigative journalism deserved to be developed further in the state.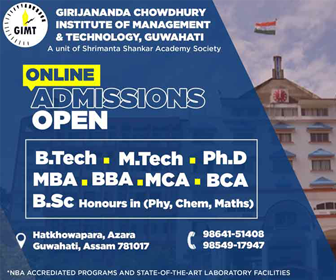 The students of the department actively participated in the events through presentations and panel discussion, the topics of which were aligned with the current theme of this year's celebration "Keeping Power in Check: Media Justice and the Rule of Law".
There were five presentations by the students with topics touching upon the area of, social media as a tool of press freedom; Sandwhich Syndrome of media: looking into militancy media and state; paid media in India, Honours/ Awards in the field of journalism; remembering Parag Kumar Das; Media in Assam: Freedom and Responsibility etc.
A panel discussion on the topic of "Ethical Journalism a Myth or Reality was also held on the occasion.