Heavy rainfall and the increase in the water level of the river at Namrup in Assam's Dibrugarh district has posed serious threat to the local residents in the area.
Due to heavy rainfall at many places of Namrup area, the whole region is flooded and with that the water level has risen in Namrup Dilli River.
It is notable that there are two reserve forests at Patkai hills, namely, Charaideo district Dilli Reserved Forest and Dibrugarh district Jeypore Reserved Forest and these reserved forest are divided by the Disang river.
Now this Disang river by entering the downstream passes between Dibrugarh and Charaideo districts near Dillighat and after that it is named as Dilli river.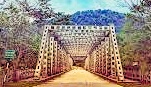 Notably, heavy rainfall over the last few days has led to rise in the water level of the river causing serious threat to the only bridge over the river that connects the two districts of Charaideo and Dibrugarh.
A resident of Dillighat, Tilu Lahon said, "This is the only bridge which is connecting Dibrugarh district and Charaideo district. If this bridge would be washed away by the powerful current of the river then connectivity between people of the two districts will be snapped."
Currently due to high rainfall and the strong water current, the  banks of the river have started to erode posing serious threat to the bridge.