Along with the other parts of the country, Mahavir Jayanti was also celebrated in Kokrajhar by the people of Jain faith to mark the birth anniversary of Lord Mahavir with traditional and religious fervour and enthusiasm.
A colourful procession was taken out in the heart of Kokrajhar town with the idol of Lord Mahavir carried on a chariot to mark the celebration.
Mahavir Jayanti is considered to be the most important event for the Jains as it marks the birth anniversary of Lord Mahavir, the last Tirthankara which means saviour and spiritual teacher, in Jainism.
As part of the day-long celebration programme, the procession was carried out at the initiative of the Kokrajhar unit of All India Jain Minority Federation (AIJMF) on the roads of Kokrajhar town.
The huge rally, which started its journey from the Jain Temple in the middle of Kokrajhar town, was flagged off by AIJMF's Kokrajhar unit President Sunil Anchalay.
The rally went through JD Road, Shanti Nagar and the Terapanth Bhawan locvated near Raas Mela field. The participants in the rally shouted slogans like 'Live and let others live'.
On the occasion of Mahavir Jayanti, Prime Minister Narendra Modi has also greeted the people.
On his Twitter handle, Prime Minister Modi  on Thursday tweeted, "Bhagwan Mahavir's message of peace, non-violence and harmony is a source of great inspiration for us."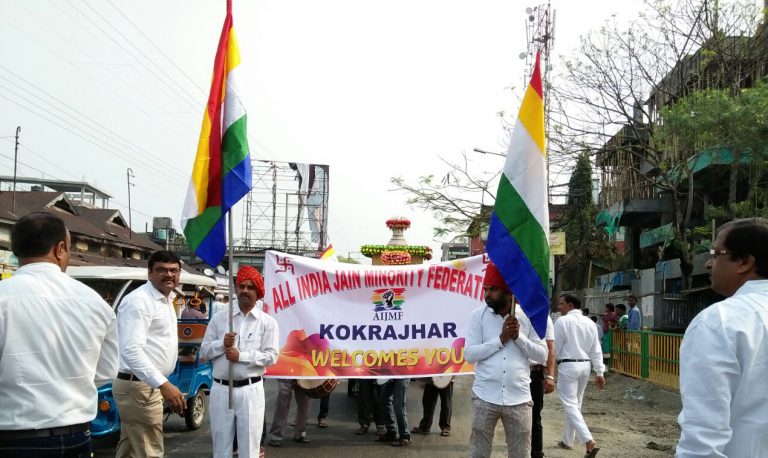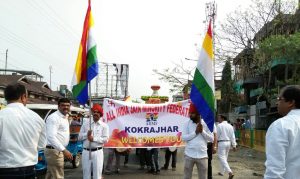 Assam Chief Minister Sarbananda Sonowal has also greeted the people on the occasion of Mahavir Jayanti. On his Twitter handle, Chif Minister Sonowal on Thursday tweeted, "Greetings to all on the auspicious occasion of #MahavirJayanti. His teachings of non-violence & peace will always inspire and guide us."
Assam Finance, Education and Health Minister Himanta Biswa Sarma also greeted the people on the occasion of Mahavir Jayanti. On his Twitter handle on Thurday, Sarma tweeted, "On #MahavirJayanti I extend my warm wishes to you all."
He further tweeted, "Bhagwan Mahavir's teachings inspire us to follow values of truth, compassion, peace, social service, love and brotherhood."