I was the first to raise my voice on social media platforms and then in my columns when Priyanka Chopra was appointed brand ambassador of Assam tourism, clearly at the behest of the state's tourism minister Himanta Biswa Sarma.
I had three clear arguments.
One, it is always desirable to use local motifs, models, images, traditions to market a state.
Two, Assam has no dearth of very beautiful women, among them two top earning models (globally speaking), who would love not to miss out on the honours bestowed on Piggy Chops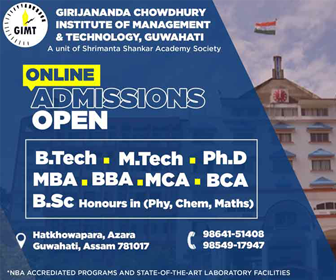 Three, Sanghamitra Phukan and Monikangkona Dutta, the two top global models with roots in Assam, would have agreed to be the state tourism's brand ambassador for a token amount, may be for a pator mekhla chador and Rs 1 in pronami, whereas Piggy Chops is known to have already taken Rs 2.37 crores on signing up — and God knows how much more the not so rich state of Assam has to pay up.
Now, Priyanka has hit the headlines and triggered the storm in the unlikeliest of places — the 126-member Assam assembly.
Assam tourism last year signed up the Quantico actor as its brand ambassador in a direct deal with her firm Purple Pebble Pictures (PPP).
But her 'Awesome Assam' campaign drew widespread criticism. The tagline, "Naturally Wild: Kyunki Yeh Assam Hai" upset tens of thousands. Assam is no wild place like the Wild West but a land of culture and tradition.
I strongly advocated mass tourism as one of the real big areas for Assam and West Bengal to tap into because both these states have huge variety of climatic zones and a host of obvious assets in historical places.
But I would oppose, as surely as sensible Assamese would, any attempt to project a 'wild image' to get tourists to Assam — no Thailand please.
On Tuesday, the second day of the three-day special session of the assembly, the opposition parties sought to know the details about the deal with Chopra.
Assam tourism minister Himanta Biswa Sarma said the tourism department signed a two-year contract with PPP but did not specify the fee to be paid to Chopra for the job. Sarma had last year, before the deal, said she would campaign "free of cost". That was as white a lie as it could be.
The government came under much pressure after several political and social organisations, including the influential All Assam Students' Union, felt the expenditure on Chopra was a total waste. They should have realised this a long time ago but better late than never.
"The government has paid Rs2.37 crore to Purple Pebbles for the promotional project," Sarma told the house.
The government, he added, will spend Rs 100 core on the total campaign package, to be finalised by May 15.
He also said the department had spent Rs 42 lakh on Chopra and her team's visit to Guwahati in February this year. More publicity material, he added, would be finalised by May 15.
The tourism department in August last year approached Chopra after three other celebrities – cricketer Sachin Tendulkar and Bollywood stars Deepika Padukone and Ranbir Kapoor – reportedly declined the offer.
Why the hell you have to chase these guys when you have Manikangana who has walked the ramp for fashion designers like Vivienne Westwood, Yoji Yamamoto, Christian Dior, Leonardo and Chloe. She also modelled for Mac Cosmetics. She was hailed as an exotic Indian beauty by the international press like the New York Times — or Sanghamitra who has been the first Indian ambassador for the global fashion brand United Colors of Benetton or Reebok.
The deal with Chopra's PPP was inked in December last year.
The expenditure on Chopra's visit earlier this year had stirred a controversy. The 'Naturally Wild' ad that followed left many with a bad taste.
Gaurav Gogoi, Assam's Congress MP and Himanta's bete noire whose advent in politics drove him to BJP, has tweeted: "Awesome Assam is not going to promote tourism. It's damaging our state's public image and brand."
Gaurav is dead right. I am not Assamese but from neighbouring Tripura but hugely attached to Assam where I started my career in journalism at the peak of the Assam agitation. Himanta may love everything ' naturally wild', but Assam is a far more civilised place than he would want it to be. It has much tradition and culture to fall back. And it has no dearth of very beautiful women.
Though I am not Assamese, I sing and dance to the tune of Bihu as much to the dhak and dol during Durga Puja. And though I have travelled and lived across half the globe beginning with my days in Oxford in the late 1980's, nothing excites my manhood more than the sight of a traditional Assamese beauty in mekhela chador, the archetypal rupohi asomiya suali.
When my dear bhonti Bobbeeta Sarma, a PHD in film studies whose book, like my latest one Agartala Doctrine, has been published by Oxford University Press, was trying to get an MP ticket, I felt she should have contested and got into the state assembly and become the state's tourism minister.
Then after success in in state tourism, she should have gone to parliament and become India's tourism minister. I bet she would have made more impact than Renuka Chowdhury.
With my friend Smita Mishra (another very beautiful lady) holding charge of the Assam tourism office in Kolkata (Bengalis account for 60 percent of the Indian domestic tourism market), Bobby would have made a huge difference. If Renuka Chowdhury can attract so much attention in tourism, Bobby could make a deadly combination with either Sanghamitra or Monkangana as brand ambassador and Smita holding charge of the Assam Tourism's most important offshore office. A dream team that never happened but that was what Assam tourism needed. Not an almost bare top Punjabi kuri with a japi funnily placed.
With a budget of less than Rs 5,000, she had managed to win the second prize for Assam tourism, when her bosses were eating away all the money, getting a small tourism kiosk in Calcutta airport for Rs 21 lakhs, in a 6 by 6 counter with a few chairs, japis, Xorais and ghamochas in it.  Smita had to draw her stuff from the Pragjyotish emporium to do up the Assam counter at a less than Rs 5000 budget when the Andhra Tourism was spending lakhs to make a Charminar inside Calcutta's Netaji Indoor Stadium.
Assamese playback singer Queen Hazarika said: "Assam has mention in epics like Mahabharata… Kamakhya Temple, 600-year-old Ahom legacy, etc. can't be summarised as Naturally Wild."
Another tweet by Bidyut Bikash Das read: "Naturally Wild, kyunki yeh Assam hain?"@priyankachopra seriously. Seemed like an ad of #Manforce rather than #Assamtourism #assam"
Assam's beauty brigade, if properly launched, can shake India off its feet but without the hip swinging Punjabi bhangra and top baring nonsense. Priyanka Chopra enjoys much access to PM Narendra Modi and Assam politicians may well court her for that, but don't ever tell me Assam Tourism could not do without her.
A brand ambassador is supposed to project a brand and one has to develop that brand in keeping with local assets, not create a false brand.
Priyanka is false brand for Assam, not the brand Assam can be.  Bengal's brand ambassador is Sourav Ganguly and who better than — as aggressive as any North India but with the distinct touch of the Bangali bhadralok. Mamata may sometimes want Shah Rukh Khan as a brand ambassdor but that is perhaps aimed at cornering Muslim votes and reinforcing her secular image.
I am more secular than Mamata but I am very uncomfortable with her politics and I believe she would better to ground Trinamool as a Bengali regional party. Similarly I would wish Chief Minister Sarbananda Sonowal, a 'jatiya bir' for leading the charge against the IMDT, would intervene and put an end to this Piggy Chops nonsense.
Himanta says he hopes tourist traffic to Assam will increase. It would for reasons other than Piggy Chops bare top calendar. Let us get one of our own girls and boys — Mani, Sanghamitra (Risha to us) or Adil in a grand meckla-chador or pator panjabi — to represent Assam.
I would even be willing to settle for BJP legislator Angoorlata Deka, with seven films under her belt as Assam tourism brand ambassador.
She is very beautiful, the archetypal dhuniya Asomiya soali (Assamese beauty) that can force any man go weak in the knees but supremely graceful. Much as Sonowal is the Assamese face of BJP, the state needs a local face, not a Punjab di kuri to project Brand Assam. No mercenaries please.
Subir Bhaumik is a veteran journalist based in Kolkata and author of several books on Northeast. He can be reached at [email protected]