The brutality of Golaghat police on Satra Mukti Sangram Samiti (SMSS) activists here on Tuesday has triggered massive public outrage.
Four leaders of the SMSS, the student wing of peasants' organisation Krishak Mukti Sangram Samiti (KMSS), were seriously injured when police mercilessly beat them up on road in Golaghat on Tuesday.
Sources said police allegedly beat them up when they came to the Golaghat Deputy Commissioner (DC)'s office to seek permission for organising a protest programme in connection with the Bogidhola Tea Estate firing incident.
At least 13 tea workers were injured when owners of Bogidhola tea estate fired on them over a bonus dispute on Wednesday last.
The owners, siblings Sudhir and Samir Roy, opened fire when around 500 workers marched to their bungalow around 10.30am to demand the bonus due to them.
The injured SMSS leaders–general secretary Bidyut Saikia, assistant general secretary Debabrat Saikia, Golaghat district committee president Mrinal Nath and Hirok Jyoti Saikia—have been admitted to Swahid Kushal Konwar Civil Hospital in Golaghat.
Sources said a team of police led by Golaghat DSP Partha Protim Saikia resorted to lathicharge without any provocation on the part of the SMSS leaders.
"We have gone to the DC office for seeking permission for staging a democratic protest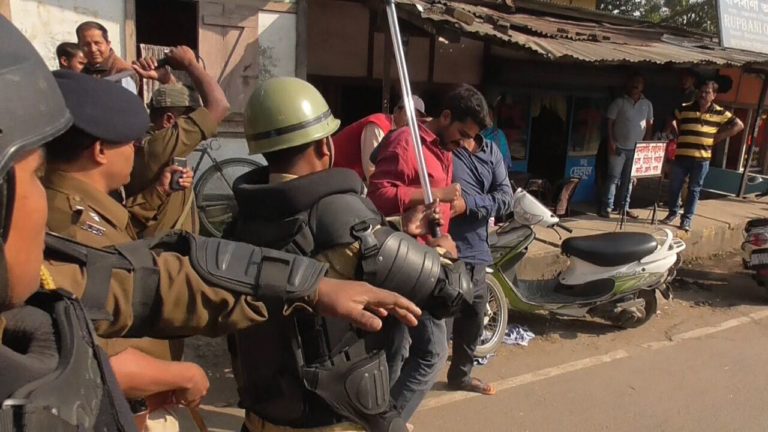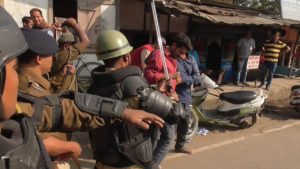 against the barbaric firing incident on poor workers of Bogidhola TE by the owner of the garden Sudhir Roy and Samri Roy but the authorities concerned refused to grant permission. When we were speaking to mediapersons near Deputy Commissioner's office, a police team led by the DSP Partha Protim Saikia jumped on our SMSS activists and beat up mercilessly," said KMSS leader Bidyut Sakia.
He alleged Golaghat police have taken the side of accused tea estate owners and have given protection to them. Saikia said arrested Roy-brothers have been given VIP treatment in Golaghat district jail by the authorities.
"On December 14, Golaghat SP visited the Golaghat district jail and ensured that all kind of facilities are provided to them by the jail authorities.  They have been kept in two special rooms," Saikia claimed.
The corned citizens have strongly condemned the police brutality on the SMSS leaders.