When Manipur Chief Minister N. Biren Singh has a Harvard-educated swanky professional as his Media Adviser, doesn't Assam CM Sarbananda Sonowal also require a highly skilled media manager?   
 With the political war on social media getting brawny every day, it has become essential for the Chief Ministers of the states across India to have highly skilled advisers to cope with the media requirements professionally.  
Realizing the importance of media management, Manipur hired Rajat Sethi, a US-returned public policy graduate as Media Adviser to the Chief Minister. A B-Tech from IIT-Kharagpur, Sethi also holds a dual degree from MIT Sloan School of Management and Harvard Kennedy School.
Though young, Sethi finds a special mention in the roll of credits in BJP's remarkable electoral victory in 2016 in Assam. Using social media tools, his team communicated the BJP's agenda to Assam's youth in all its 32 districts.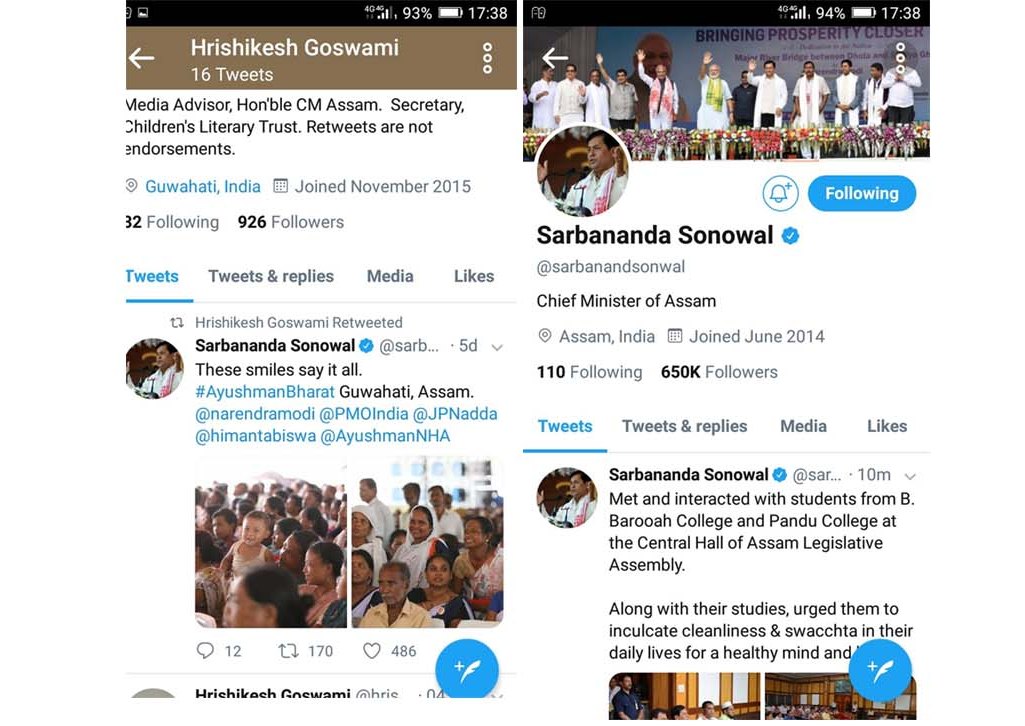 On the other hand, Assam has CM Sarbananda Sonowal's old friend, Hrishikesh Goswami, as his Media Adviser. Goswami hailed from Howly in Lower Assam, and has limited skills to handle modern-day media requirements.
Goswami is also the Secretary of Children's Literary Trust of Assam, never worked with any mainstream media organisations. Because of unprofessional approach, Sonowal on Wednesday had to apologise to the journalists for being late at an event by almost two hours.  
Almost all the Chief Ministers are now recruiting former journalists, senior media consultants or public policy experts as media advisers. Even Delhi Chief Minister Arvind Kejriwal has found former journalist Nagendar Sharma as his press advisor. Sharma has long experience as a journalist, and had worked with the PTI, BBC and Hindustan Times.
Even the other Chief Ministers of northeast, including Conrad Sangma of Meghalaya and Pema Khandu of Arunachal Pradesh has also started taking services of professionals for better media management.
"Just because the media advisers to the Chief Minister of Assam are not professional, more than 160 busy journalists had to waste more than two hours of their time doing nothing," a journalist said, adding that a text message about the rescheduling of the programme would have been appreciated.
Also read: Unprofessional media managers put Sonowal in embarrassment
It has been found that Hrishikesh Goswami and even Rajib Prakash Baruah, the Director of Information and Public Relations are not active on the information superhighway, especially on the Twitter. Though Goswami joined Twitter on November 2015, he has only 16 tweets (including re-tweets) against his account.  
Most of the media advisers to the other CMs are highly active on the Twitter with several thousand followers. Rajat Sethi has 26.7k Twitter followers. Unlike Goswami, Assam Chief Minister Sarbananda Sonowal himself is highly active on Twitter, and has 650k followers.    
While Hrishikesh Goswami is a political appointee, it was expected that as an Assam Civil Service (ACS) officer, Rajib Prakash Baruah should have been slightly professional as the Director of Information and Public Relations.