Sprint queen Hima Das of Assam is right now the toast of the nation and also the talk of the nation. Right from the President of India, Ram Nath Kovind, to the Prime Minister, Narendra Modi, to Assam Chief Minister, Sarbananda Sonowal, everybody has tweeted congratulatory messages to Hima for bringing so much of glory to the nation.
And the tweets do not stop at that for this 18-year-old girl from Nagaon district in Assam. Congratulatory wishes from Bollywood celebrities have also started pouring in soon after she won gold in the women's 400 metre final race Under-20 Athletics Championships.
A NDTV report stated that the who's who of Bollywood starting from Amitabh Bachchan to Shah Rukh Khan to Akshay Kumar – all have taken to Twitter to congratulate the track queen on her big win.
The report further stated that Amitabh Bachchan and Shah Rukh Khan were among the first Bollywood celebrities to congratulate Hima and what followed suit was a chain of heartfelt messages and wishes from other stars including Akshay Kumar and Anushka Sharma among others.
The Big B who is a big sports enthusiast and has also been sharing tweets on the ongoing FIFA World Cup, said that Hima has "given us reason to hold up our heads high" -CONGRATULATIONS .. #HimaDas , the first Indian Women to win a GOLD in World Athletic track event EVER ! INDIA is proud of you .. you have given us reason to hold up our heads HIGH ! JAI HIND!!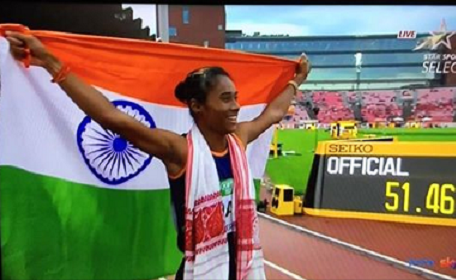 Shah Rukh wrote: "Woke up and felt a genuine wave of pride, love and inspiration. What an amazing athlete you are…Hima Das Kya Baat hai!"
Anushka Sharma congratulated Hima saying that it's a "huge achievement" and that she is she is a source of inspiration for other athletes".
Eighteen-year-old Hima Das, a pre-tournament favourite, clocked 51.46s to win India's first-ever world-level track gold medal.
Akshay Kumar, who will soon be seen in the sports biopic Gold, also congratulated the track queen and tweeted: "Historic! Congratulations Hima Das for winning India's first Gold at a global track event in Under-20 World Athletics. Nicely done."
Farhan Akhtar, who played the titular role in Bhaag Milkha Bhaag, mentioned in his post that it was Milkha Singh's dream to see India win gold in track and field and he congratulated Hima and said that Milkha Singh's dream has finally been "realised".
Other Bollywood celebrities who congratulated Hima include Arjun Rampal, Shatrughan Sinha, Sanju actress Dia Mirza and Arjun Kapoor. Hima Das has not responded to Bollywood's congratulatory messages till now though she has thanked all her Indian fans.