The 'tirobhab tithi' (death anniversary) of the great Vaishnavite saint, Srimanta Sankardeva, was observed on Tuesday not only across Assam but also outside the State by Assamese devotees with religious fervour.
In West Bengal, the 'tirobhab tithi' of Vaishnavite saint from Assam, Srimanta Sankardeva, was also observed at the Assam House premises in Russel Street at Kolkata on Tuesday by the Assamese people who have been residing in the neighbouring State.
The 'Sankardeva tithi' was observed at a programme organized by the Assam Socio Literary Club (ASCL) with pomp and enthusiasm.
The devotees performed 'naam prasanga' on the occasion.
The utmost attraction of the evening was 'Nagara naam'.
"The 'Naagara naam' was performed by a 22-member team of devotees from Shyamrai Satra of Nalbari district in Assam. The team was led by Padum Kalita. The whole evening was reverberated with devotional songs," informed the secretary of Assam Socio Literary Club, Chandan Phukan.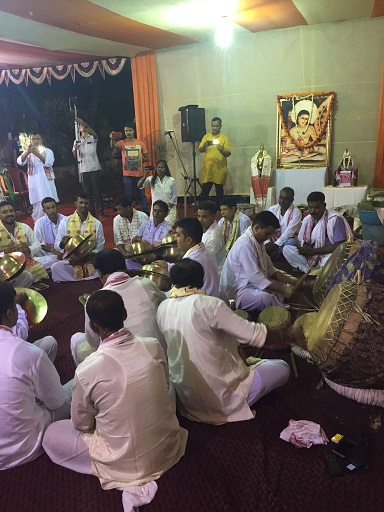 Despite inclement weather more than 150 Assamese people gathered in the programme to offer prayers and pay respect to the 'gurujana', the great Vaishnavite saint.
The programme successfully concluded with distribution of 'mah prasad' and 'khichiri'.
Assam Socio Literary Club secretary Phukan also informed the club will organise a workshop on 'Satriya Nritya' in Kolkata soon.
The Assam Socio Literary Club, which is involved in organizing various socio-literary-cultural activities in Kolkata, also organised Bishnu Rabha Divas.
It may be mentioned that the Kolkata-based Assam Socio Literary Club has a glorious past. It was formed in 1872 at the initiative of a number of brilliant and courageous Assamese students. Among those youths, there were Lakshminath Bezbaroah, Ganga Govinda Phukan, Padmanath Gohain Baruah, Madhab Bezbaruah, Ambika Nath, Girish Prasad Roychoudhury and other Assamese students.
The organisation was first named as Assamese Students' Literary Club (ASL Club). It was mainly engaged in literary activities. In the 60s, the organisation was renamed as Assamese Socio Literary Club (ASL Club).