Expectations run high for the much awaited one-day international between India and West Indies at the Barsapara cricket statdium in Guwahati on October 21 next.
Both the teams have arrived in the city and have begun practicing for the first limited overs encounter of the series.
Also read: Guwahati's Barsapara all set to host India-West Indies ODI on Oct 21
Team India arrived at the Barsapra stadium early Friday morning for their practice sessions and get acclimatized with the playing conditions of the field.
Notably, the newly constructed cricket stadium in Guwahati will host the first one-day international after only one T20 encounter between India and Australia India in October last year which Australia won by two wickets.
However, amid the heightened expectations and speculations, an ugly incident involving star cricketer Mahindra Singh Dhoni at the Barsapara cricket stadium on Friday has raised several uncomfortable questions regarding the future of Guwahati as a permanent venue for international cricket encounters.
Dhoni was present at the practice ground along with other members of the men in blue on Friday morning.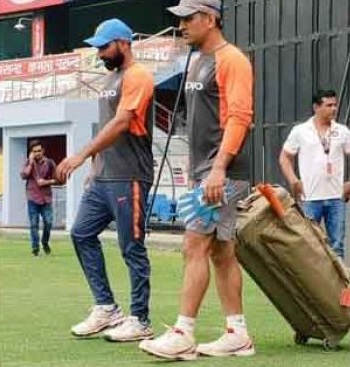 Predictably, host of cricket lovers and fans assembled at the stadium to have a glimpse of their favourite cricketers.
The excitement was no less even among the security personnel stationed at the ground.
There were requests from the fans for a prized selfie with Dhoni.
Dhoni, presumably got irritated and allegedly filed an official complaint with the Board of Control for Cricket in India (BCCI) about the whole incident.
Now it remains to be seen what preventive measures, the BCCI takes acting on the complaint by Dhoni.
It may be recalled that some miscreants had pelted stones at the bus of Team Australia when they were returning from the stadium after the last T 20 encounter last year.