In a major boost to manufacturing development goal of Assam, Union Minister of Electronics and Information Technology Ravi Shankar Prasad and State Chief Minister Sarbananda Sonowal jointly laid foundation stone for two electronics manufacturing units and a common facility centre named Start-up World of Innovation in Future Technologies (SWIFT) at Electronics Manufacturing Cluster in the Tech City at Bongara in Guwahati on Saturday.
Also read: Tech City near Guwahati to come up next year
The SWIFT centre is an initiative of the Information and Technology Department, Government of Assam, which is supported by the Ministry of Electronics and IT, Government of India and implemented by the Assam Electronics Development Corporation Ltd. (AMTRON).
The SWIFT centre and electronics manufacturing units once completed, would significantly boost economy and innovation in the state.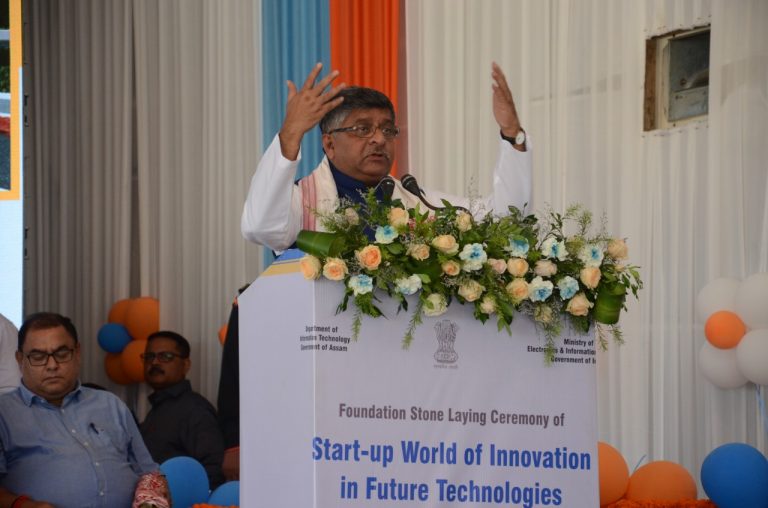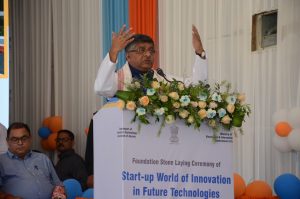 Speaking on the occasion, Union Electronics and Information Technology Minister Ravi Shankar Prasad said that the Government of India is promoting governance to digital platform as a result of which the country is emerging as a big digital power.
He said that people of the Northeast being hardworking, dynamic and creative would be an active partner in this transformation.
Stating that big start up movement is rising in India, the Union Minister observed that the IIT and IIITs are no longer job seekers, rather they have emerged as job givers.
He hoped that once the Tech City grows fully, it would significantly boost innovation and generate employment for local youth with more small and medium electronics manufacturing companies setting up their units here.
The Union Minister also said that north east as the gateway to the ASEAN is the vision of the Union Government and it puts best efforts to create opportunity for a golden future for the region.
He also informed that the Central Government has already sanctioned separate BPO project for the Northeast as a result of which five BPOs are currently being operational in Guwahati and five more are coming up at Nagaon, Silchar, Jorhat, Kokrajhar and Diphu.
State Chief Minister Sarbananda Sonowal while speaking on the occasion said that a new era in the electronics manufacturing and digital communication emerges in Assam with these new projects at the Tech City.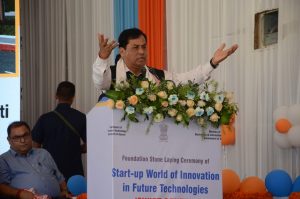 Informing that implementation of projects worth more than Rs 2500 crore have already kicked off in the State after the success of Advantage Assam: Global Investors' Summit, Chief Minister Sonowal appreciated Union Minister Ravi Shankar Prasad for reviving a closed project of electronics manufacturing cluster and rebuilding it as Tech City taking special permission from the Prime Minister.
He also said that as a result of State gGovernment's deep commitment, Bangladesh and Bhutan governments have set up their consulates in Guwahati and Druk Airways is going to start its flight from Paro to Singapore via Guwahati from September 1.
He further informed that more flights to South East Asian coutries would start their operation from Guwahati in next couple of months.
State IT Minister Keshab Mahanta in his speech said that the 1.4 lac sq. ft SWIFT centre would provide the right environment and impetus to the youth of the region to grow with their innovation.
Ajay Prakash Sawhney, Secretary of the Ministry of Information Technology, Mannen Srigiri, CEO of JnJ Powercom Systems Ltd, Sanjay Kumar Ghosh SIMOCO Telecommunications (South Asia) Ltd., Gautam Baruah, Director, IIIT Guwahati also spoke on the occasion. While Additional Chief Secretary, IT, Government of Assam VS Bhaskar delivered the welcome speech, the vote of thanks was offered by MK Yadava, MD, AMTRON.
Former Deputy Speaker of Assam Legislative Assembly Dilip Paul, Palashbari MLA Pranab Kalita, Vice Chairman of AMTRON Ritubaran Sarma, Chief Secretary to the State Government TY Das, Secretary of the Ministry of Telecommunication Aruna Sundararajan and host of other dignitaries were present on the occasion.