The Apex Court's order to publish draft National Register for Citizens (NRC) for Assam carrying 2.38 crores names by the midnight of December 31 has changed the prospects of all political parties in the forthcoming Assam panchayat poll to be held in mid February next year.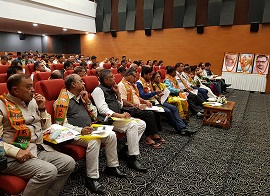 The NRC update process is regarded as to identify illegal Bangladeshi settlers in the state. Centre's apprehension was that the non citizen will create major law and order trouble after the draft NRC publication.
For BJP the forthcoming Assam Panchayat election will be a major test to prove its popularity among the majority of the masses. The Apex Court's order has compelled the party to go ahead for the rural poll more cautiously.
Already there has been apprehension among the immigrant Muslim population in lower and central Assam that majority of them will be excluded in the December NRC draft publication.
The NRC draft publication would likely to polarize the state population and allegations and counter allegations poured between BJP led alliance and Cong- AIUDF (All Indian United Democratic Front).
In the first top level meeting of BJP held on Friday last here, the party's central general secretary and Northeast in-charge Ram Madhab said " This Panchayat poll will be a report card for BJP Assam Pradesh – if it has takers among the public in the state or not."
The state's population currently is near about four crore. As per the 2011 census, Assam's total population was 3.67 crore. The NRC draft to be published will include near about 55 percent of state's total population.
With the Apex Court's order on the sensitive NRC issue, fearing more 'law and order' trouble ahead and immediate after the publication of the draft roll, the BJP led govt. sought 50 companies of CPMF ( Central Para Military Force) from Centre to assist the state police to tackle possible law and order trouble.