Assam Finance Department on Monday launched a massive citizens' awareness programme seeking suggestions for the 2018-19 Budget, stated an official press release.
The first of its kind outreach programme under the stewardship of State Finance Minister, Dr Himanta Biswa Sarma, was launched simultaneously at select educational institutes in Kamrup (Metro), Kamrup (Rural), Dhemaji and Golaghat districts.
The programme will gradually cover 12 other districts, covering 42 schools, colleges and universities over a period of one week.
The interactive session at K C Das Commerce College in Guwahati was chaired by V B Pyarelal, IAS, Additional Chief Secretary, Finance Department, Government of Assam.
Another participative session at Gauhati University was presided over by Samir K Sinha, IAS, Principal Secretary, Finance Department while the programme at Royal Global University was chaired
by Shyam Jagannathan, IAS, Commissioner & Secretary of the State Finance Department.
This year, the Assam Government has taken a multi-dimensional approach to call for suggestions from citizens. Citizens can share their Budget ideas through assam.mygov.in platform and Finance Department website http://finance.assam.gov.in till February 16, 2018.
Assam Budget 2018-19 intends to propel the state in the realm of e-Budget, instead of the conventional paper-based one.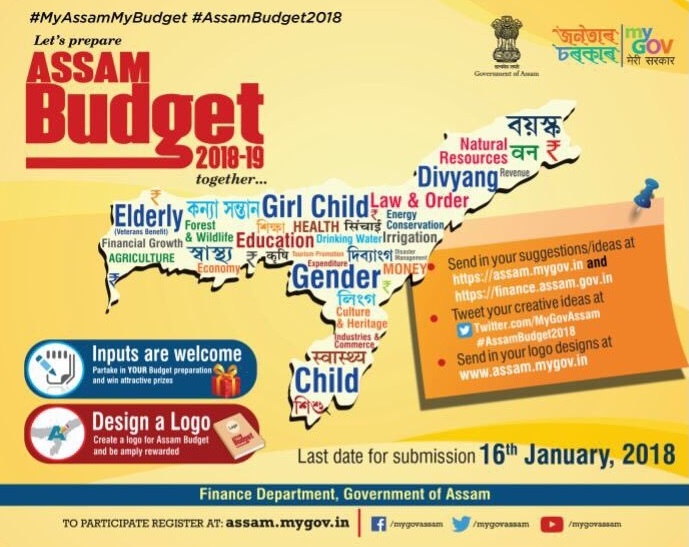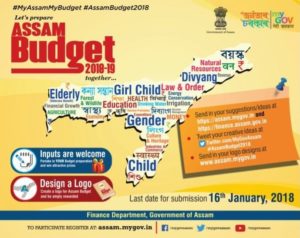 With this, Assam will join a handful of states that could successfully implement e-Budget.
Earlier, Budget copies were printed for the members of Legislative Assembly, various departments, media and common citizens.
Come March 2018, everybody across the State can access every bit of the Budget related information with just a click of the mouse or in their mobile handsets or tablets.
In another big change, which will be a boost to sectors, the Assam Budget 2018-19 will lay significant stress on girl child, differently abled and elderly, which will ensure empowerment, equality and a better life.