Assam Governor Prof Jagdish Mukhi who turned 77 on Saturday, celebrated his birthday quietly by visiting the Baishistha temple, Hayagriva Madhava temple, Kedarnath temple and Poa-Mecca of Hajo and offered his prayers there for the welfare of all sections of the people of the State.
Staying away from all birthday celebrations, Governor Prof Mukhi visited the religious places and offered his prayers there and prayed for the well-being of all sections of the people of the State.
Prof Mukhi also paid his visit to Sualkuchi and interacted with the weavers at Rimky Silk Weaving factory.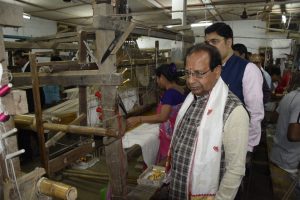 He lauded the weavers for creating such beautiful works of handlooms. He also requested the local weavers to fully utilize the Government schemes to showcase their creations.
The Governor also put stress on market linkages to promote and popularize the products of Sualkuchi.  Encouraging the weavers, the Governor further asked the weavers to explore new markets outside the state so that their products get adequate patronage from outside as well.
He also said that frequent exchanges between the weavers of Sualkuchi with those of other states will facilitate exchange of ideas, skills and promotion of handloom products as a whole. The Governor wished them luck and assured to support them in their endeavour.
First Lady of Assam, Prem Mukhi had also accompanied the Governor.