Heavy downpour in the upper reaches of Arunachal hill sites for the last five days is causing flash flood in three revenue circles of Dhemaji district at downstream Assam.
The Siang river, which is a major tributary of mighty Brahmaputra, is spate due to heavy and incessant rainfall in the region and is supplying plenty waters to New Siang and Lali rivers.
Also read: Autumn rains hit normal life in Arunachal's Siang valley, Assam's Dhemaji
Disaster Management Department of Dhemaji reported that about 22,689 people of 118 villages spreading in Dhemaji, Gogamukh and Jonai revenue circles have been affected in the second wave of flash flood. Flood water also inundated about 4078 hectare cropland in the district so far.
Overflowing waters of Siang, Lali and Brahamputra rivers entered human habitation of Kobuchapori, Moonmuni Chapori, Mesaki chapori and Mudoi island fall under Jonai revenue circles in easternmost part of the district while the flood waters have submerged vast rural areas at Bera chapori, Borong Sorainbari, Galighat and Kangkanchapori under Jonai the circle.
In worse-affected Jonai circle, around 11,000 people of 81 villages are reeling under the second wave of flash flood.
The sub-divisional administration has opened two relief camps and has distributed food items and other relief materials. Thus, the administration has already distributed 153.18 quintals of rice, 29.37 quintals of dal, 8.81 quintals of salt, 9 packets baby food and 300 pieces tarpaulin besides other materials among the flood-hit villagers.
In Dhemaji circle, surging water of Jiyadhal river has flooded human habitation at Joirampur and Lalukijaan area on its right bank. The administration on Thursday opened a relief camp at Dharmapur LP School providing accommodation of 357 inmates of two villages.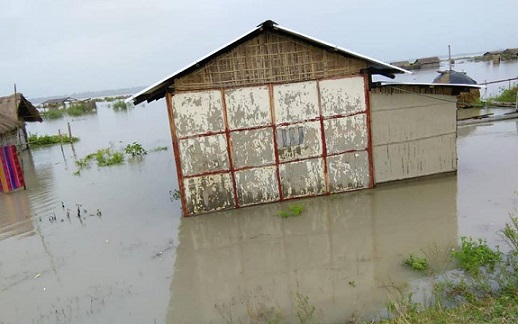 The administration has so far distributed 154. 25 quintals of rice, 30 quintals of dal, 9 quintals of salt and 50 litres of mustard oil among flood-hit families under Dhemaji circle.
The flash flood in the district so far claimed one life as 22-year-old Bijoy Tanti of Kamalpur village under Gogamukh Police Station drowned in flood waters on Thursday.
Surging waters of Kumatiya river also ravaged 35 villages of Gogamukh circle under the district.
As such, human habitations and crop fields at Gorotali, Chutiyakari, Rotuwa, Betonihula, Berbhonga, Bhokotgaon, Bordoibaam-Bongali villages are being submerged by flood waters.
The autumn rain, which turned torrential on Sunday, has paralysed normal life in Dhemaji district and Siang valley of bordering Arunachal Pradesh. Torrential rain in the area has created inconvenience in relief distribution, while it has dampened the spirit of Ganesh Puja on Thursday.
The weather condition is uncertain till filing of this report on Thursday evening.