The All Bodo Students Union (ABSU), Peoples' Joint Action Committee for Bodoland Movement (PJACBM) and two factions of NDFB once again raised their strong voices for a separate Bodoland by organizing a mega rally at Udangshrini Alari Premsing Brahma Memorial Playground in BTAD of Assam on Sunday.
More than 100,000 movement activists from Chirang and Kokrajhar and across the state of Assam attended the mega gathering.
The protester created a sort of thunderstorm by shouting slogans demanding a new state of Bodoland for the exploited, deprived and marginalized indigenous communities of Assam.
Amidst the mammoth gathering, posters and banners highlighting the promise made by Bharatiya Janata Party (BJP) before the general election 2014 to create separate state of Bodoland if voted to power are displayed in the nook and corners of the venue.
The posters and banners also visibly stated sense of betrayal amongst the masses and leaders spearheading Bodoland movement.
It demanded immediate fulfillment of the promise made by Prime Minister Narendra Modi and Union Home Minister Rajnath Singh four and half years ago.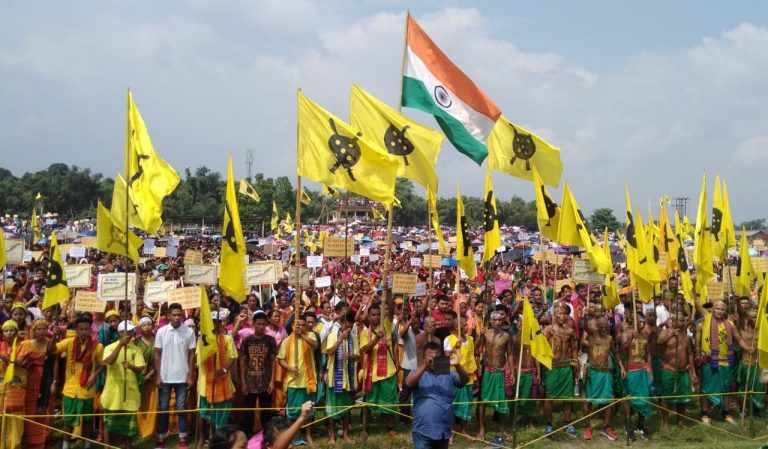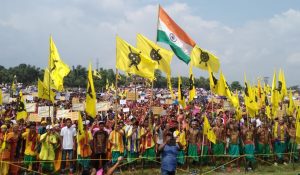 The mega peoples' gathering was attended by hundreds of distinguished leaders such as former Rajya Sabha member U G Brahma; S K Bwisumuthiari, former MP; Gobinda Basumatary, general secretary, NDFB (P); Rakesh Boro, chief convener, PJACBM; B Anjalu, general secretary, NDFB (R) and others.
Many speakers stressed on protecting the tribal belts and blocks through creation of separate state of Bodoland as the successive governments in Assam have directly and indirectly facilitated encroachment into the tribal land, identity and culture.
The gathering vowed to carry forward the Bodoland movement with much more fervour until it is achieved.