Sensation prevails after a bus, which was carrying 40 people including college students for a picnic party from Rowta to Bagamati, gutted at Ambarishnagar along the India-Bhutan border in Baksa district on Saturday.
The incident took place at about 10 am.
According to information, at least 40 people including students, teachers and others from Serega Foundation Junior Academy of Rowta under Darrang district, narrowly escaped from a major tragedy when the bus in which they were coming from Rowta to Bagamati, a picnic spot along the Indo-Bhutan border under Baksa district, caught fire due to technical disorder.
However, at least five students namely Neha Daimary (17), Sewali Daimary (18), Jintu Daimary(18), Sadarsha Brahma(17), Emanuel Daimary (17) and a teacher of the institute, Ajanti Basumatary (30), received injuries in the incident and they were admitted to the Naokata State Dispensary.
After providing primary treatment they were released.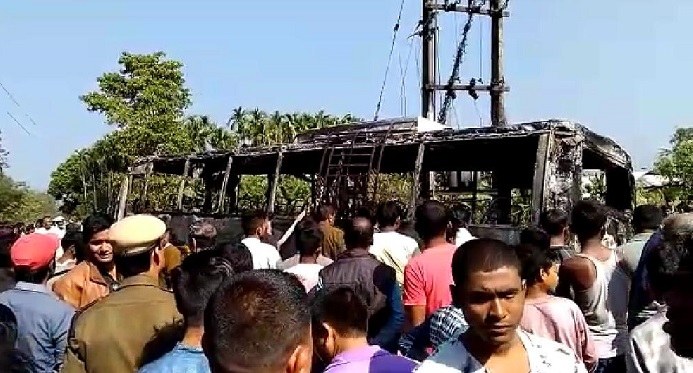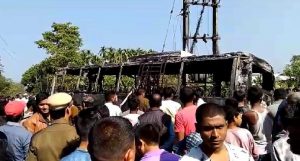 According to eye witnesses, the students came to Bagamati along the Indo-Bhutan border for enjoying a picnic party. Suddenly fire caught the bus at the turning of Ambarish Nagar near the picnic spot. Panic prevailed among the students when the fire and black smoke covered the entire bus.
The students ran away from the bus. The locals also rushed to the spot hearing the hue and cry of the students and saved the lives of the students, teachers and others.
Fire tender which came from Goreswar doused the fire with the help of locals.
All the goods and food materials were burnt to ashes and the students went back home with broken hearts.