Another 'D' voter, who was detained for not being able to prove his Indian citizenship, died on Saturday night falling down from his bed in the detention camp at Tezpur.
The deceased 'D' voter has been identified as 58-year-old Basudev Biswas, who hailed from Rupahi in Nagaon district.
According to Sonitpur superintendent of police (SP) Kumar Sanjit Krishnan, Biswas was suffering from asthmatic trouble and had been in the detention camp of Tezpur central jail since 2016.
Biswas was taken to Kanaklata civil hospital wherein he was declared dead.
When the body was taken to his house at Pub Sowalani of Rupahi in Nagaon, an unruly situation was created by the locals.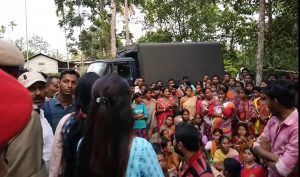 The family members of late Biswas refused to accept his body.
According to information, the death of Biswas in the detention camp, despite having voter and ration cards, has descended a pall of gloom in Rupahi.
"If he was an Indian, why he was arrested and if he is Bangladeshi send his body to Bangladesh," the family members and locals told the police who came to hand over the body.
The locals demanded that compensation of Rs 20 lakh be provided to the family of late Biswas.
As the situation went out of control due to protest staged by the locals, the Koliabor sub-divisional administration deployed police and paramilitary force personnel.
Two executive magistrates of Koliabor sub-division were also present at the spot.
Although the police and civil administration are trying to control the situation through discussion with the locals, the standoff continues.