Observing the unnatural phenomenon such as change of water quality and constant flood threat since last one and half year, All Arunachal Pradesh Students Union (AAPSU) has demanded a water treaty between India and neighbouring China.
AAPSU sources informed that three federal wings of the apex student's union namely East Siang, Siang and Upper Siang districts are all set to organize protest rally at Pasighat on Wednesday. The protesting organizations will also stage sit-in-demo at Pasighat market and place a demand for a well-defined 'Water treaty' with China.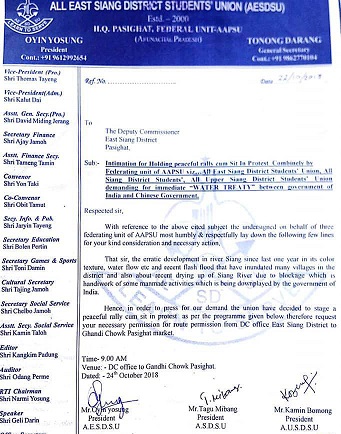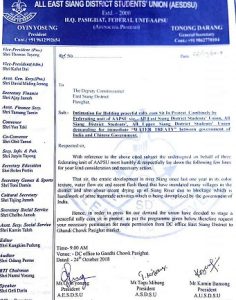 The mighty Siang river in Arunachal Pradesh is flowing down Yarlung Tsangpo in neighbouring country China.
"The recent incident of sudden swelling and receding of Siang water has directly affected on the agriculture fields and natural resources in Siang belt, while it has adversely affected the aquatic ecosystems in Siang river basin",  AAPSU general secretary Tobom Dai said.
Dai, who is a native of East Siang district, recalled that the riverine villagers are living with bleak future with constant fear of flood and other natural calamities. "Unusual wave and change of course of Siang river this year already rendered many families homeless at Mebo on left bank of Siang river," he said.