Itanagar Capital Complex Deputy Commissioner, Prince Dhawan on Wednesday convened a meeting at his office to discuss traffic management and to work out modalities to ease traffic congestion in the Capital Complex.
The DC stressed that parking and no parking zones have already been notified which requires strict compliance and asked all the traffic officers and officials to implement the same strictly.
He also directed them for mandatory display of traffic sign boards at all the prominent locations.
Proprietors of major malls like Reliance/Vishal/V2/Max Mart Hub/Sohum Shopee/Drodel Cinema were also directed to depute two-three personnel for management of vehicle parking near the malls and not to allow the customers to park their vehicles on either side of the road.
The Deputy Commissioner informed that no U-turn for heavy vehicle at RKM Gate No 2 would be allowed and vehicle movement from NH-415 opposite RKM Gate No 1 to Division IV would be allowed to be two way.
Dhawan directed the Arunachal Pradesh State Transport Services (APSTS) station superintendent to provide for entry and exit of all buses through the premises of APSTS and to allow their entry through Blue Pine Hotel road and exit on the NH-415 from the other end.
He informed that one lane parking is allowed in road connecting APSTS station from NH-415 via Bluepine Hotel.
The Deputy Commissioner further informed that vehicle movement from NH-415 via Nirvachan Bhawan-Assembly-Science & Technology is allowed only one way.
Further, the vehicle movement from Assembly Traffic Point to NH-415 and vice versa is allowed two-way.
The Deputy Commissioner also informed that vehicle movement to Abotani Colony from NH-415 (Tallang Hira Memorial) is allowed as one way and no vehicle should be allowed to enter NH-415 from Abotani Colony via Tallang Hira Memorial.
Also, the vehicle movement through Arun Subansiri traffic point is allowed both ways and the vehicles going to C E Office, Mowb-II & Mowb-I shall take the route through Museum road and directed the EE, PWD, CD-A to ensure that the condition if the road is good, informed the Deputy Commissioner.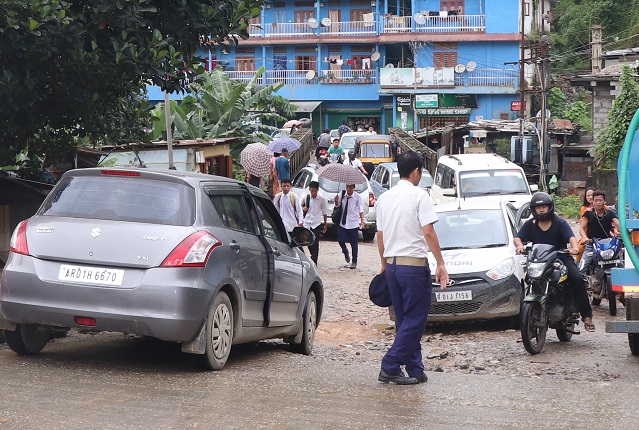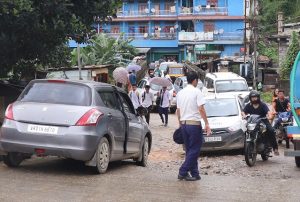 He also informed that the vehicle movement to Ganga shall be diverted at P-Sector, traffic point and they shall use the sector roads and directed the EE, PWD, CD-B to ensure that the ESS Sector road is motorable for LMV under all circumstances.
The Deputy Commissioner has appealed the denizens to cooperate with the district administration and abide by the new modification in the traffic system and hoped that with a little effort from every individual, the traffic congestion could be controlled in the coming days.
Among others, the meeting was attended by the SP, ADC, EACs and SDPOs of both Itanagar and Naharlagun, Highway EE, station superintendent, officers in-charge of Itanagar and Naharlagun police stations etc.