AGP party workers at Jorhat today burnt posters of their leaders Keshab Mahanta, Phani Bhusan Choudhury and Atul Bora and pulled down banners and posters from the party office.
Angered by the decision of the three to ride piggy back to power again with the BJP in the ensuing Lok Sabha elections, Jorhat office bearers condemned the unilateral decision which they felt would harm the regional image of the party.
Niren Sharma, executive member of the AGP central committee, said that the move by these three would send a wrong signal to the electorate who were now vesting their faith once again on the party to protect the identity of the indigenous people of Assam against the BJP's overt ploy to give Citizenship to illegal Hindu Bangladeshis among others after passing the Citizenship Amendment Bill 2016, which was the foremost agenda of the party.
Another member who did not wish to be named said that the leaders were only interested in power and money and for them the means justified the end.
"After withdrawing their support from the BJP led government in the State over the CAB which was being opposed by one and all except the BJP, the U-turn by the three would prove disastrous to the credibility of the party and its prospects," he said.
More than 100 AGP party members had gathered near the party office at Old Circuit House Road here and burnt all the posters of the three leaders.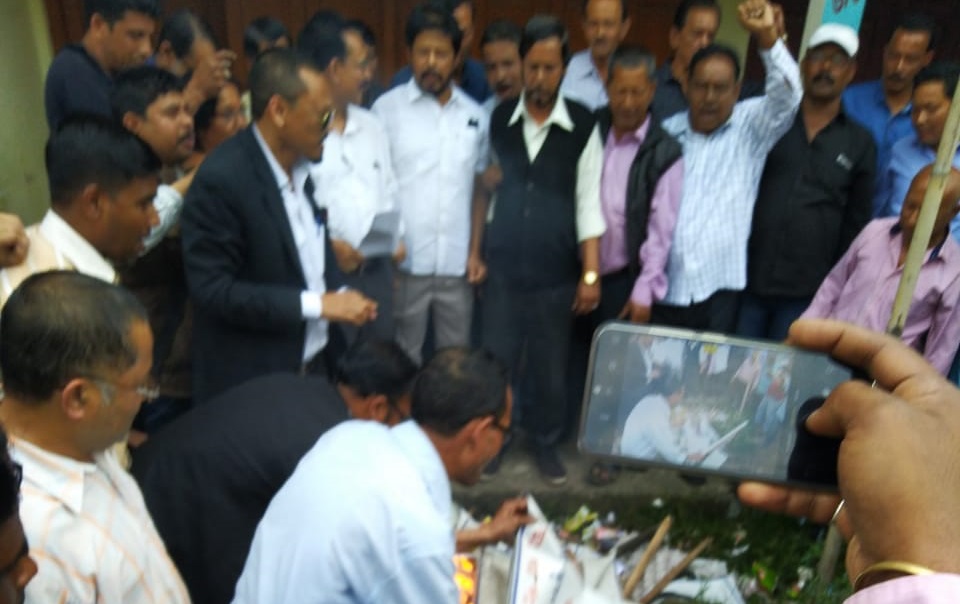 The Asom Gana Parishad which had evolved after the six year Assam Agitation to oust illegal migrants mostly from Bangladesh had come to power twice under the leadership of Prafulla Kumar Mahanta but failed to deliver either in development or in deporting the foreigners.
The All Assam Students' Union had signed the Assam Accord with the clause that all illegal migrants irrespective of caste, religion or creed would be deported after identification but the CAB which had been passed in the Lok Sabha but opposed in the Rajya Sabha would be among the foremost agenda of BJP if they return to power.
The AGP became mired in controversy and alleged corruption leaving the state exchequer high and dry before the Congress came to power for three consecutive terms under the leadership of Tarun Gogoi from 2001.
The AGP tried to revive the party by joining hands with the BJP which swept into power in the Centre in 2014 and the state in 2016 on the planks of Hindutva parivartan and rooting out corruption.