Ahead of the Independence Day celebrations, Jorhat Police arrested one Jonathan Aier from Morongial Road area late night on Wednesday and recovered a hand-made pistol along with some live ammunition from his possession.
Jorhat Superintendent of Police (SP) Vaibhav Nimbalkar said that acting on a tip off, on Wednesday night at about 11:25, a Jorhat Police team led by the Jorhat Additional SP (HQ), Officer-in-Charge of Mariani Police Station and the in-charge of Deberapar Police Outpost conducted a raid and search operation at the house of one Jonathan Aier, son of Talimaran Aier of Morongial Road under Deberapar Police Outpost in the district.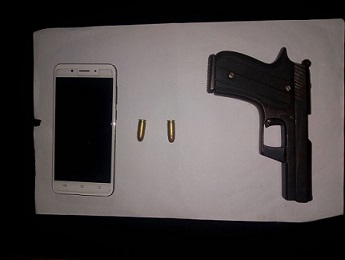 During the search, one country-made pistol, 2 live rounds of ammunition, one scooty and one mobile handset along with SIM were seized from his possession.
In this connection, a case (159/18) has been registered at Mariani Police Station under Section 25 (1A) of Arms Act, 1959 and the investigation is on.
The Deberapara area is located along Assam-Nagaland border. Intelligence reports had earlier revealed that militant outfits from across the border might carry out acts of subversion in the run-up to the Independence Day.