The West Goalpara MLA Abdur Rashid Mondal, who attended a series of meetings in his constituency since Tuesday, allayed fear of the villagers, whose names have not included in the final draft National Register of Citizens (NRC).
MLA Mondal said the people, whose names have been left out, would certainly get several other chances to prove their citizenship and get their names included in the final list. On Tuesday, a meeting was arranged at Boguan and on Wednesday similar meetings were held at Nidanpur and Bapurvita.
Referring to the Supreme Court of India, under which monitoring the NRC update process is going on as well as the Union Home Minister, the MLA gave assurance that the genuine Indian citizens' names would be included at any cost. He requested the people not to panic and become restless in this regard.
Besides, he promised full legal support through the party's legal cell for those genuine Indian citizens whose names have been left out in the draft NRC. "As this is not the final NRC and just a draft, the people will get chances to submit their claims and objections. There is no question of becoming restless," said Mondal, adding, "The Congress will be with the people till the inclusion of the last Indian citizens' name."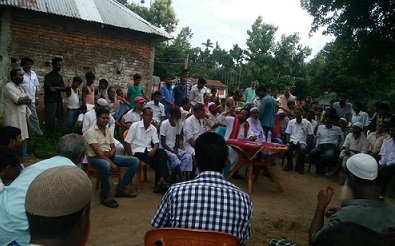 In Goalpara, 10,83,143 people of 2 lakh, 5 thousand and 52 families applied for inclusion of their names in the NRC. Names of 4,49,709 people (41.52 per cent) were included in the first draft NRC. But the administration has remained tight-lipped about the inclusion of the exact number of citizens in the final draft NRC even after its publication.
Meanwhile, adequate securities have been arranged all over the district to prevent occurrence of any untoward incident post-publication of the NRC.
Eight companies of central paramilitary forces have been still covering all the 90 NSK centres in the district.