The activities of thieves are on the rise in Kokrajhar town.
In a case of theft, a house in Kokrajhar was looted in broad daylight on Wednesday.
As per information, thieves on Wednesday looted gold necklaces, earrings worth over Rs 6 lakh and Rs 10,000 in cash from the house of Nirjay Brahma of Gwjwnpuri in Kokrajhar district under Kokrajhar Police Station.
Nirjoy Brahma is the Block Development Officer (BDO) at Dotma.
According to information, Nirjay and his family members after locking the doors of their house went to Dhemaji for NRC verification work Sunday last and are scheduled to return home by Thursday. One of their nephews, Parthiv Kr Brahma along with one of friends, who were given responsibility to take care of the house in their absence.
Talking to media persons, Parthiv Kr Brahma said, "I and my friend Rahul Boro are studying Mathematical Science at Bodoland University and stay at Deborgaon as paying guests near the university. Both of us are from Dipachariali village in Dhemaji district. As our uncle (Nirjay) called me to take care of their house in absence of them, I along with my friend came here."
Parthiv said that by 9.30 am he went to Bodoland University but after returning at about 4:30 pm, he saw that all the three locks of the house were broken and also all the almirahs were also kept open while the clothes were found thrown here and there. Parthiv said, he immediately called the local villagers and they informed it to the police, who rushed to the spot and started investigation.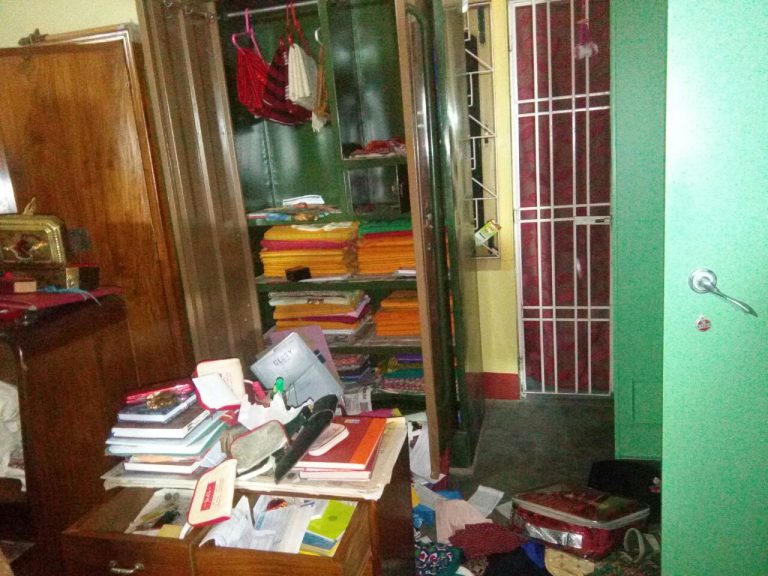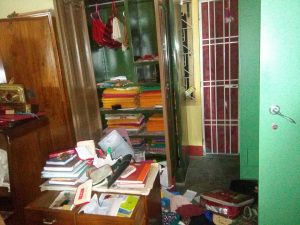 Police officer Latuk Das said, "The villagers from Gwjwnpuri called the Officer-In-charge of Sadar Police Station, Kokrajhar, about the theft and we rushed to the spot."
The police officer informed said that the thieves broke open the house of Nirjay Brahma and looted the house. The gang broke the locks of the gate, the front door to enter the house and looted gold ornaments worth Rs 6 lakh and Rs 10,000 in cash. There was no one in the house when the incident took place.
Das also said that police has started investigation.
Kokrajhar has seen a rise in such incidents in recent time.
This is the second incidence of burglary in the area in the last 20 days. On March 11, unidentified persons looted gold ornament worth over Rs 3 lakh from the house of one Rubung Brahma.
Incidence of burglary and theft are reported frequently in and around Kokrajhar town.
The residents have urged the police administration to nab the gangs of thieves and provide safety and security to the people.