Two more COVID-19 positive cases have been detected in Meghalaya on Saturday.
This has taking the total number of cases in the State to 10.
Both cases are from the residence of the first patient, the senior medical profession from Bethany Hospital who had succumbed to the deadly virus.
While one is a helper another is a relative.
A total of 50 positive cases for coronavirus have been reported in the north-eastern region including 34 from Assam, nine from Meghalaya, two each from Manipur and Tripura and one each from Arunachal Pradesh, Mizoram and Nagaland.
Two COVID-19 patients in the region (one each from Meghalaya and Assam) have died due to complications from the virus.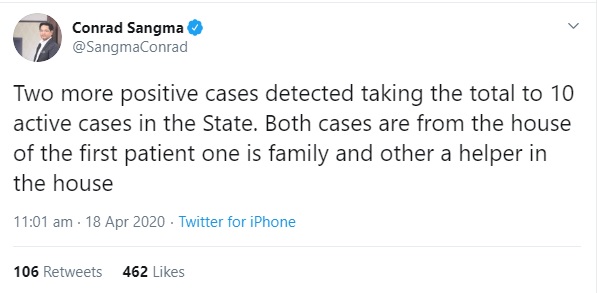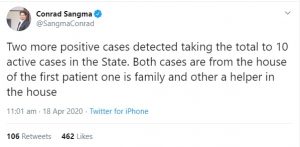 Meanwhile, the state's Chief Minister Conrad K Sangma who on Saturday took to Twitter to make the announcement said 24,382 people have been screened in the State and 49,391 calls have been received in the helpline numbers, while 2557 people are in quarantine.
A total of 140 are in the primary contact list of COVID-19 patients, while close to 4,775 are in the secondary contact list.
To combat the pandemic, the State has kept 30,000 PPEs in stock right now, and by Saturday night itself the Government will receive another shipment of 20,000 PPEs.
Sangma informed that the government has been allocated 4000 rapid test kits, and the Government is said to be procuring more of those.
Moreover, Rs 5.50 cr has been received in the CM's Relief Fund and the funds will be invested in Corona Care Centres and other infrastructure requirements.