The Udalguri district of Assam administered by the Bodoland Territorial Council (BTC), has seen a steady rise in human-elephant conflict over the past decade.
The illegal human encroachment in the elephant corridors of Udalguri district has posed a serious threat to ecology of the district since long. What has added to that is unabated felling of trees in Khalingduar Reserve Forest and Bornadi Wildlife Sanctuary, thereby leading to destruction of the green cover and compelling wild elephants to roam in human habitats.
All the PRFs (Proposed Reserve Forests) Neewly, Kundarbi and Bhairabkunda have been encroached upon by various unscrupulous  people and organizations allegedly in unholy nexus with forest officials, administration and government.
What may be a standing example is the alleged allotment of 450 bighas of forest land to Brahmo Sewashram at Newlee PRF. From all official records it is found that on the basis of the report of then Circle Officer, Harisinga Revenue Circle, the SDLAC Bhergaon had allotted the said plot of forest land to the religious body, which violated forest rules as directed by the Supreme Court.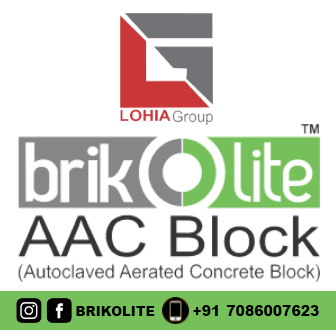 What is shocking is that unofficially more than 3,000 bighas of Neewly PRF are under control of the religious body. The Revenue Circle Officers working in Harisinga, Udalguri and Mazbat Revenue Circles during 1990-2006 allegedly minted millions of rupees by allotting pattas to the encroachers in cooperation with mandals and kanangos. This is the untold story behind the so-called man-elephant conflict in the district.
But amidst this, the combined efforts of nature-loving organizations and wildlife activists to mitigate the man-elephant conflict are praiseworthy. One among them is Nabajyoti Baruah,  a known nature lover and wildlife activist actively associated with man-elephant conflict mitigation community-level awareness programme at Indo-Bhutan border villages in Udalguri of Assam for the  past decade.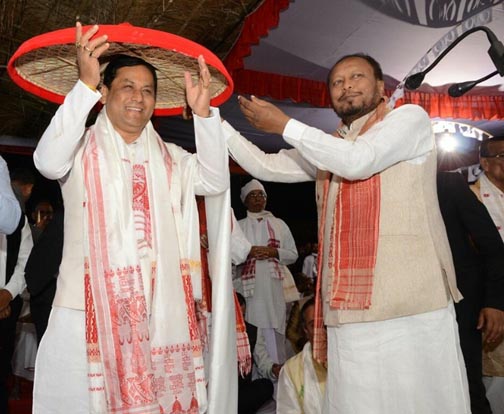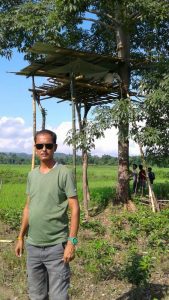 He has been instrumental in planting hundreds of banana and jackfruit saplings, including bamboo saplings in Khalingduar Reserve Forest, which in the long run would act as fodder for wild elephants.
Baruah has been voluntarily associating himself with community-level awareness programmes on man-elephant conflict mitigation in the region. He has also been instrumental in holding awareness programmes on importance of protection of flora and fauna in remote villages. Recognizing his efforts, he was also conferred the C Subramaniam Award for Community Leadership by the National Foundation for India (NFI) under the Ministry of Security and Justice of Government of India  for 2016-17 on March 2, 2017. He has undertaken the mission of building nearly 40 watch-towers for villagers in human-elephant conflict zone.
Talking to Northeast Now, he said, "I am building watch-towers which will help the villagers to keep a watch on herds of wild jumbos and chase them away. I have already completed five such towers in Garuajhar, Sewabasti, Hatigarh and Kundarbil areas near the Indo-Bhutan border."
Baruah has also produced a visual documentary on man-elephant conflict in Udalguri region in 2014. Besides, being a versatile writer he has contributed numerous stories on wildlife in vernacular dailies. "Sustainable efforts are needed along with practical measures to be adopted to minimize the human-elephant conflict," he added.