'I am human.  I take this pledge as a responsible global citizen – to protect this ONE EARTH and uphold HUMANITY. Let us all celebrate plantation as a festival, a green festival for humanity – during every rainy season – across the globe. I will ensure my contribution for the (survival of the saplings planted) ecosystem and ecological security of future generations. Peace.'
This was the Plantation Festival pledge to conserve nature taken by the people of three villages – Bargashia, Khamparpara and Wabusa – near Agartala in Tripura, who are participating in the plantation festival which began on Monday.
The organisers are Development Initiative for Sustainable Advancement (DISA), Forest Research Centre for Livelihood Extension (FRCLE) and Jana Unnayan Samiti Tripura (JUST). The theme of the festival is: 'Let us celebrate plantation as a festival, a green festival for humanity – during every rainy season – across the globe'.
Anil G, a sustainable and green development enterprise consultant, who is the brainchild behind the Plantation Festival, holds the view that it is a common festival which unites us all "as a family". "We can celebrate Plantation Festival in every village in India and the world. Nature is the only unifying force in the world," he said.
Anil G further stated that we should all do a "self-appraisal" asking ourselves as to how  much we have contributed to making our village or society come together like a family and why were people becoming "more and more self-centric" in today's social fabric.
"We should also ask ourselves whether we have contributed anything for our environment and for our posterity.  A Plantation Festival is the answer to this.  It will ensure ecological security of future generations," he said.
Pawan Kaushik, head and senior scientist of Forest Research Centre and Livelihoods Extension, Agartala, Tripura said that more than 4,000 saplings were collected from various contributors and distributed to the villagers.
"Villagers also showed the land available for planting trees and received the saplings for raising large block plantation. A few community members opted for block plantation of lemon, mango and bamboos," he said.
Much emphasis was given for homestead plantations, wherein the saplings provided were fruit bearing ones.
One of the community members, a traditional healer, supported the raising of an herbal garden by planting the most important medicinal plants used in making traditional medicines.
Kaushik said that the school campus and trees had been affected by high speed winds and a decision was taken to raise a bamboo-based multipurpose windbreak on its boundary by planting closure spacing with bamboo.
"Mahogany and a few fruit plants were also planted as these would be effective in protecting the campus from high-speed winds," he remarked.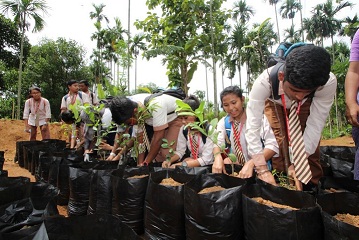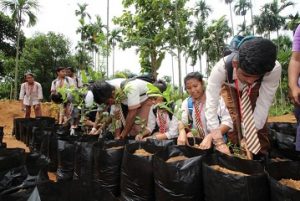 Considering next year's requirements, small saplings were planted in large poly bags for developing them into tall plants. MLA Ashish Das also participated in the community plantation programme, sports and other cultural events and his presence was a great morale-booster for the people.
A few senior citizens from Agartala reached the Plantation Festival venue after watching it live on Facebook. Young school kids, children from the community, women and visitors from Agartala International School also participated in the Plantation Festival.