In this world of dying humanity, the planet earth is facing massive environmental issues such as green house effect, global warming, scarcity of drinking water, imbalances in climatic conditions, endangered wild life species as well as air, water and land pollution.
To take necessary steps for the cause of saving our planet from destruction, the Peace Club of Resubelpara North Garo Hills has launched Pre World Environment Day & Holiday Tree Plantation Drive at Resubelpara on Thursday.
Around 40 young environmentalists participated at the programme which commenced at 10 in the morning and was successfully carried out at three different locations of North Garo Hills.
Through the programme, the club is targeting to conduct the model tree plantations at three important locations – rural, urban and catchment areas in the hill top.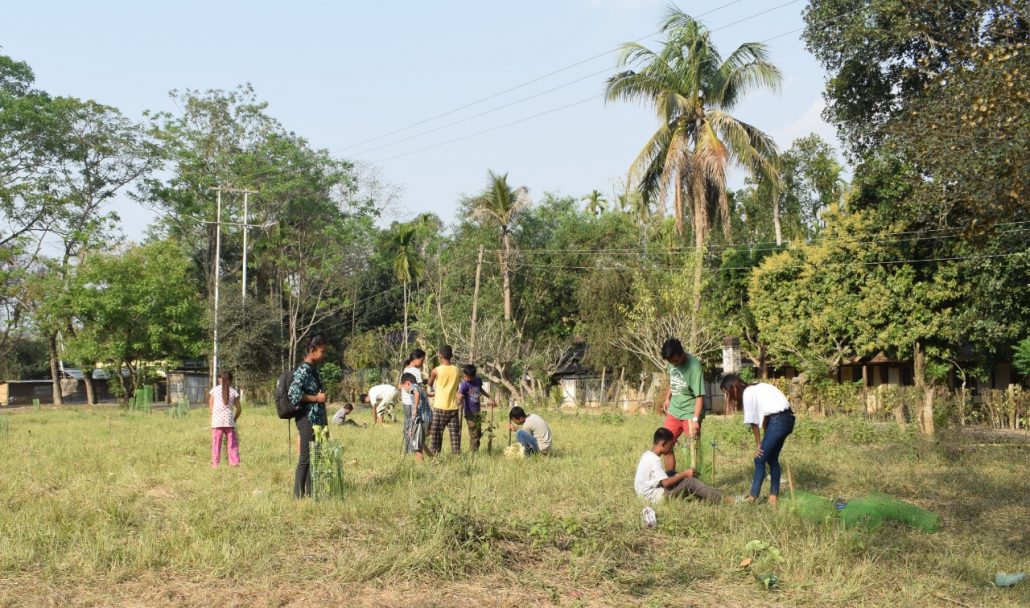 The club has decided to carry out the programme on the off days, since most of the members are school/college going students/children.
The plans of the club are based on a very simple philosophy – "Think Globally, Act Locally", which strives to mobilize others to follow the same principle by taking up operations and project to resolve global environment issues.
The club's motto is also rescuing the endangered wild animal species, burning of the plastic waste materials, protecting forest reserve and planting trees.
The vision of the peace club is the 'mission of spreading peace to the dying world'.
In the club's programme, more than 40 saplings of different varieties like Kimde (Nagessor), Te'gatchu (Mango), Giting (Banyan), Champe (Tittachap) and many others have been planted inside the circle green net.
The club members have taken up the responsibility of managing all funds and bearing all financial expenses by themselves.
According to them, this is just an awareness programme for the little children to make the other grown-ups and the matured citizens of the planet realize the value of planting trees so that they too and come ahead and do the same.
"We must love and protect our beautiful planet earth. We are taught to act locally and think globally by our leader KD Momin", said Churike K Sangma (13) of Dekachang who is a young member of the Peace Club, Resubelpara.
"We must love and protect the beautiful planet earth. We are taught by our leader KD Momin to make this planet a plastic free home for all living creatures", said Eden Ch Momin (12) of Bakrapara, a young member of the Peace Club, Resubelpara.