The festivities of Raas festival, locally called Sri Sri Krishnar Rass Leela, glorifying the life and wonders of Lord Krishna through stage performance, was held across Lakhimpur district in the last three days.
This time, Raas was held in 250 venues across the district where a large crowd thronged to view the performance with reverence and a cultural continuity.
Also read: Assam: Mangaldai Raas festival gets underway with religious fervour and gaiety
The performances as part of the Raas festival were held at Panigaon near North Lakhimpur town, organized by historic Pragati Sangha, in Gohain Tekela village, Azad, Khoga, Serajuli, Nowboicha, Bihpuria, Narayanpur, Dholpur, Bongalmora, Bogeenadi, Ghilamora and Dhakuwakhona.
Sri Sri Krishnar Raas Leela was also organised by Sri Sri Bor Elengi Satra Yuvak Sangha under the direction of Sri Sri Bhaba Goswami, Satradhikar, Bor Elengi Satra and Moni Goswami at Bor Elengi Satra Mancha in Lakhimpur.
Many film and stage personalities from the State also took part in these Raas festivities as actors.
As the Raas festival this year coincided with the Panchayat polls, candidates of various political parties contesting the polls also took advantage of its venues.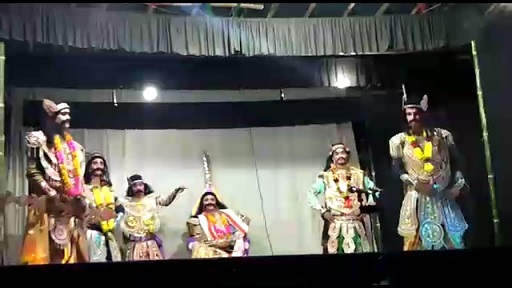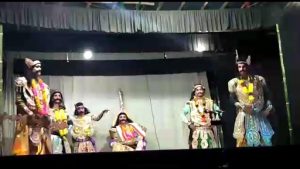 Many contesting candidates campaigned for votes in Raas venues right from the rehearsal period to the actual staging. They were found seeking votes in Raas venues in different places of the district.
Interestingly, while the Raas festival is celebrated in Upper Assam with stage performances where the life and wonders of Lord Krishna are presented through drama, in lower Assam, it is celebrated with display of idols presenting the life and wonders of Lord Krishna.
In Mangaldai of Darrang district, the 39th edition of Sri Krishna Raas festival got underway with 11-day long programme. Moloya Goswami, a National Award winning cine actor and academician, ceremonially inaugurated the festival on Thursday afternoon.
A large number of visitors thronged the Sri Krishna Raas festival organized by Mangaldai Sanatan Dharma Sabha at the Mangaldai Bishnu temple of Darrang district.