Meghalaya Governor Ganga Prasad and Chief Minister Conrad K Sangma on Wednesday attended the convocation ceremony of The Institute of Chartered Financial Analysts of India (ICFAI), University Meghalaya.
The convocation ceremony was held at U Soso Tham Auditorium in presence of Chancellor Col. Dr VRK Prasad and Vice Chancellor Dr Alicia Gatphoh and other officials of the University.
Governor Ganga Prasad presented the Gold and Silver medals, while CM Sangma presented certificates to the rank holders. This was the first convocation ceremony of the University, which was established in 2007.
Congratulating the University, Governor Ganga Prasad urged the students to never look upon this degree as an end, but a beginning to a new form of education. "As you enter the threshold of pursuing a career of your choice and as per the qualification you have attained, this degree should serve as a wholesome catalyst to further your yearnings to seek knowledge with which you can bring immense change to the world we live in and make it even better."
The Governor motivated the students to have a never-say-die attitude, while advising them to learn perseverance, dedication and show exemplary skills of work culture and ethics during their career. "Go beyond all limits to help our great nation called India to become the epitome of democracy, prosperity, peace and universal brotherhood," he added.
Last year, ICFAI University Meghalaya received the Best University in Meghalaya award, which was conferred by the Corporate Council for Leadership and Incredible India Foundation at the India Education Leadership Summit and Award, New Delhi.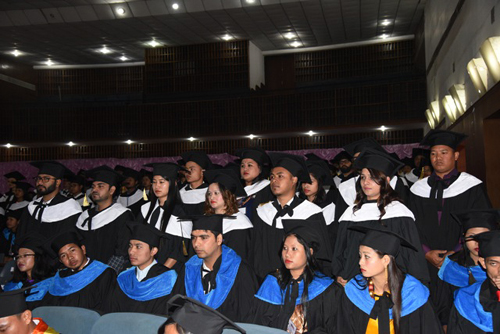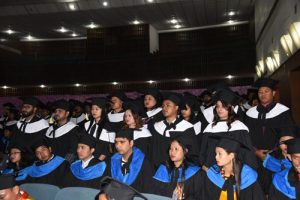 Chief Minister Conrad Sangma, while congratulating the University, urged the students to imbibe qualities of good virtue and be passionate of what they are interested in doing.
Talking about his political career and failed attempts to win elections, the Chief Minister said, "Never give up, so that you will never fail in life. Learn from your mistakes and failures and take steps to fix the wrongs."
Urging the students to take up entrepreneurship as a career choice, the Chief Minister said, "The job of the Government is to act as a facilitator and we are committed to promote entrepreneurship in the State and provide an environment for the younger generation to take the responsibility in their hands."
He informed that Rs. 4 crore corpus has been earmarked for development of entrepreneurship in Meghalaya and if there was a necessity it will be enhanced, so that the younger generation can benefit from the programme of the Government.
He motivated the students to be job providers rather than becoming job seekers.